For those of you who are unaware of the 1% For The Planet initiative, it's an organisation that invests funds into protecting the environment.
To become a member you need to certify that your business will commit to paying 1% of all yearly revenue to the cause - hence the name 1% For The Planet.
Whilst I'm not currently an active member of the organisation, it is definitely on my big list of things to do.
According to their website there are over 5,700 members of the community at present, from over 110 different countries around the world.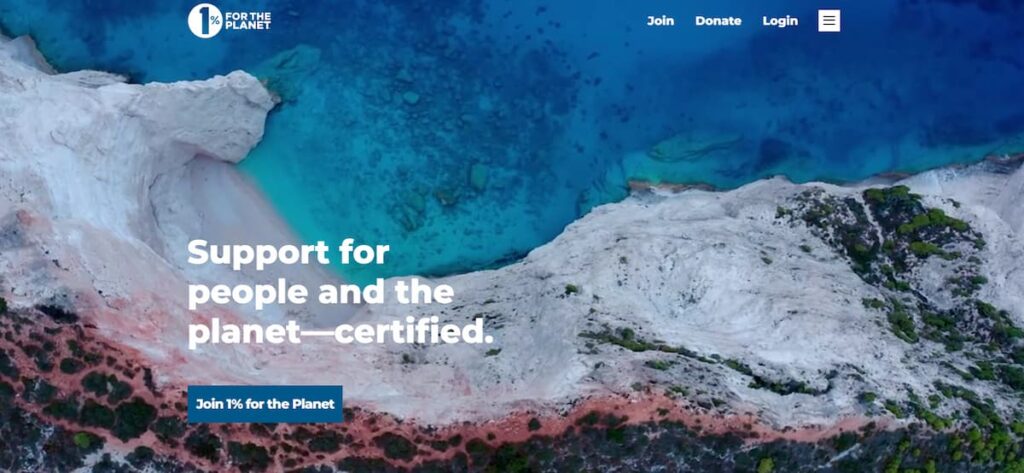 I really believe that for us to have any kind of liveable future, businesses need to start paying for the damage we've all been doing to the environment, and through initiatives like this one we can begin to make a difference and halt the damage we've been causing.
I also strongly believe the big polluters like Shell (and the Government) should be playing a much bigger part in this - but that's a story for another day.
I wanted to look at the SEO strategy of the 1% For The Planet website, and to share a fairly large suggestion to help them grow their visibility.
Side note - I know how easy it is to stand from the sidelines and to pick faults in another sites organic strategy. There is a whole lot more than meets the eye - so please take the findings here with a pinch of salt, and if anyone from 1% For The Planet ever reads this - please don't throw me overboard! 😅
Overview of 1% For The Planet's Organic Performance
According to SEO software Ahrefs, their website is getting approximately 5,000 visits per month and has visibility for nearly 7 thousand keywords.

They've amassed backlinks from 12 thousand websites, with a total of over 3 million backlinks.
With a DR rating of 84/100 (not that I read much into these), it's safe to say they've got quite a powerful domain on their hands!
It seems that for the past 2 years at least organic traffic has remained pretty stable. No big peaks or dips going on here. Maybe they would like to change that?...
Top Organic Pages at present
Most of the time when analysing a site like this we will see that nearly all organic traffic comes from branded search terms - so people looking for the 1% for the planet website.
And that is definitely the case here too with nearly 90% of all organic traffic coming via visits to the homepage.
Most of those will be made up of branded search queries - people searching for "1% for the planet" and variations of that phrase.
Outside of the homepage you find a few other internal pages, but those all have very little traffic - 2% and less of the overall total.
How I would grow their organic traffic 📈
I first stumbled upon this when browsing another website which was a member of the 1% for the planet community.
They were linking to the website from their own footer using the logo of 1% For The Planet, as many other member sites do.
This is a good way to show to other site users that they're a member of the organisation (and as a side note, this is a great way for 1% For The Planet to build links at scale to their own site too!).
But what stood out here was that they don't link to the homepage of the website, but instead to the individual directory listing page for their business - like shown below:
https://directories.onepercentfortheplanet.org/profile/business-name-goes-here
Because the directory of the website exists on a subdomain like the above, the site is kept in it's own silo.
The tech team likely have good reason do use this method - the directory is going to be powered by a different tech stack vs the main site after all, as it has a vastly different purpose.
But the issue here is that the subdomain has a robots.txt file that instructs search engines to not crawl any of their content.
This means no content in the directory is going to be accessible, or more importantly indexable, to search engines.
The result is that none of the member pages within the directory are indexed by Google!
If I was a paying member of the organisation I'd be happy for Google or anyone else to know about this, and to find the reference of my business on their directory (including a link back to your website which will be beneficial for SEO too).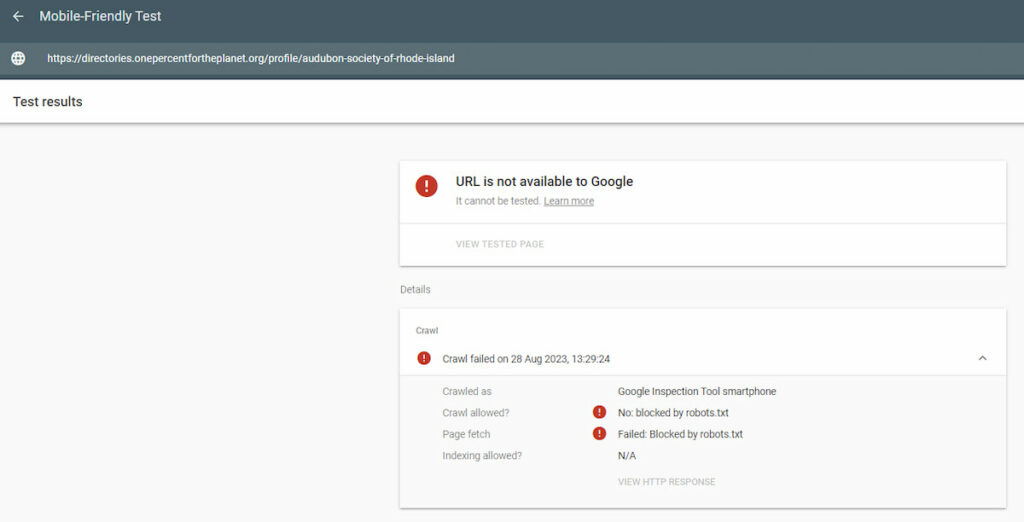 I think it would be super important for my customers too. If the directory was accessible to crawlers, and the content was indexable, it's highly likely that whenever a customer searched for "brandname" in Google, one of the top results they would see (after their website) would be the 1% For The Planet directory listing.
I mocked up a short video highlighting what this could look like, featuring the brand Nudie Jeans, who are currently members of the 1% For The Planet movement.
That would be a great way to showcase to customers that they're a member of the organisation, and that they are committed to helping the environment.
Why did they block crawlers from accessing the directory? 🔎
This could have been accidental, but it might also have been done to prevent resources being wasted by crawlers trying to access all pages/resources on the site.
Within directories like this one, it's often quite a complex setup where many variants of URLs are accessible, leading to "spider traps" where lots of crawling uses up server resources.
Looking at the configuration of the directory, they could have probably controlled crawling instead by blocking certain parameters within the robots.txt file, instead of a blanket block.
Ultimately it depends on what they were trying to achieve. I do believe there is value to be had, in terms of all the content they have within their directory of over 7,000 businesses.
Perhaps they just needed a more sensible way to control and limit crawling of the site so that it wouldn't be so resource heavy.
Would Google even rank these directory listings if they were accessible? 🤔
I think when it comes to branded searches, outside of the official website and any social profiles, the bar to being included on the SERP is really low.
So yes I think with a little content these directory listings could rank and gain good visibility for the organisation. I think this largely because the 1% For The Planet domain has great SEO authority - I don't think it would need much to help those pages rank for branded queries.
That said, I don't think they will deliver huge amounts of organic traffic, but over time more people will see and become aware of the organisation so it becomes a bit of a brand-awareness campaign.
The investment in doing the above would likely stand to benefit the members of 1% For The Planet more so than that of the movement itself - but that's no bad thing in my opinion, as it should entice more brands to want to sign up.
To improve these listing pages further I would be asking the businesses that are members to answer questions such as:
Why does your brand care about environmental causes?
What is your brand doing to help the environment?
Are there any particular causes you care highly about?
What has been the impact of your business joining our movement (this question could be sent after X period of time since they've been a member).
Making use of User Generated Content (UGC) in this way, and having a set process to follow when new brands join the cause, this should create a lasting and sustainable impact on their SEO.
To take it further they potentially could allow members to contribute short updates - like blog posts - where they can talk further about environmental topics close to their heart.
All of this could be utilised on the directory listings pages, helping to strengthen them and to give them a better chance of ranking higher on Google.
This should bring more visitors to the 1% For The Planet website, and may result in more businesses deciding to join the movement.
What else can they do to boost SEO of the directory?
There's a lot that could be done here - but it will depend on resources available to them, and ultimately their business goals. There's no point going after organic traffic just for the sake of it.
As the directory seems to be built with Angular JS it's likely a tricky site to build on in an SEO friendly way (JavaScript powered sites are harder to optimise for search engines vs popular CMS solutions).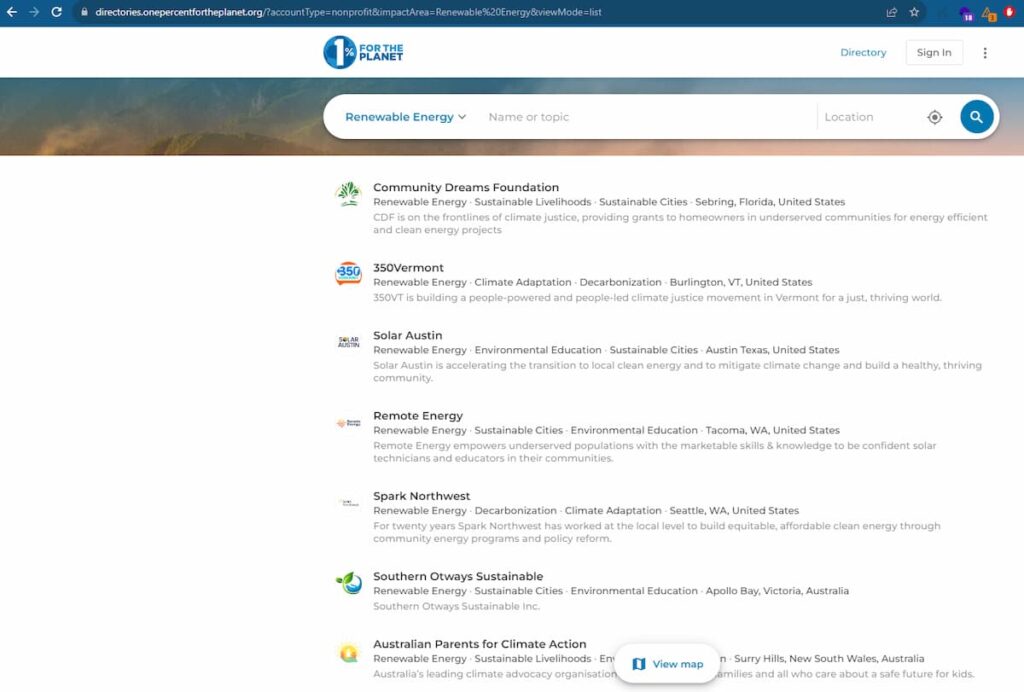 From a quick look at the directory site I think they would benefit from:
Linking to member categories from the main navigation and a new footer menu on the page
Adding breadcrumbs to the listing pages to aid navigation back to the directory homepage
Adding valuable content to the directory homepage - instead of just including a search box / map exploration feature.
Summary - how 1% For The Planet could reach more people on Google
The TLDR summary of the above could be as succinct as "stop making the directory hidden for search engines" - but if I had to elaborate these would be the main points:
1% For The Planet has a directory based on a subdomain which is blocking crawling/indexing by search engines like Google at present.
Lifting this block should result in business listings getting found and indexed by Google.
Improving the content on the business listing pages, by requesting their members to supply some additional content should help make those listing pages rank higher on Google.
There are additional tweaks that can be made to the directory to make it a more valuable SEO asset, helping 1% For The Planet's organic visibility grow, and helping to attract more members.