During the past few years one topic I've found to be super-interesting has been the idea of ethics, or morals, within the world of SEO and digital marketing in general.
I find myself paying more attention to the issues that exist within the industry, thanks to all of those who are sharing and talking about them, preferring to read about these than about hearing about the latest greatest SEO tactics or strategies.
At one point I felt that it would be really interesting (to me at least!) to reach out to a few people and ask for their thoughts on various topics of note.
I settled on the name "The Ethical Marketer" but I'm not sure if ethics does really cover the whole spectrum of things I'd love to talk about here. Topics I have bouncing around my vast, often empty head include:
Being more sustainable (reducing your carbon footprint and so on)
Being more inclusive and encouraging for a more diverse digital marketing community
Working with ethical, green brands or "for purpose" brands - and finding your meaning as a digital marketer

I'd also like to make it abundantly clear that, in doing this series, I by no means consider myself as being "the most ethical marketer" - however you would go about defining that term. This wasn't my goal at all in starting this feature. I'm not some kind of digital-Gandhi, I simply like the idea of trying to encourage more people to talk openly about some of these issues. I regret that I don't think I have more to contribute to these conversations, so hopefully these interviews go towards helping others who do have important things to share.
To find people to talk to here about these issues I paid close attention to my social feeds - twitter especially - and I simply reached out to a few people who clearly had something interesting to say. I can't reach out to everyone so if you would like to get involved or know of a good person to speak with, my DM's are open / you know where to find me.
Lots of my initial approaches were beneficial - everyone seems happy to chat about these issues in the open, which lead me to putting these mini stories together. I hope you find them as interesting as I did when I began thinking of questions to ask these experts - whether they're copywriters, SEO's, PPC specialists, web developers, designers - I think we can all learn a thing or two from the brilliant people I've spoken to below.
If you feel particularly passionate about a topic which might belong here then feel free to reach out and we can see about setting up a chat. Or if you would like to nominate someone, I'm always open to suggestions.
Thanks to everyone who is reading or who has participated in one of these interviews! 
Below you will find the interviews I've carried out to date. Note: I'm slowly adding more interviews here, don't forget to bookmark / revisit to read more!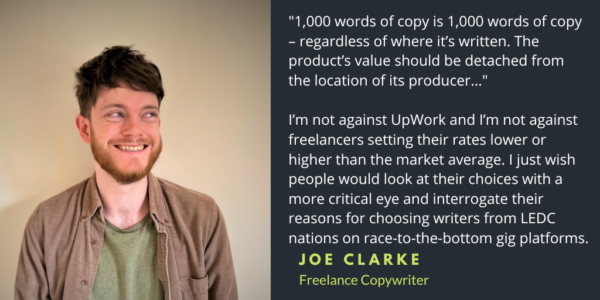 Joe Clarke is a very talented writer that I first encountered in the Digital Marketing Union (DMU), where admittedly I've been lucky enough to rub shoulders with many other skilled and ultimately very, very, nice people. This is vital if you're working remotely in digital marketing or a similar field; having access to a community of like-minded people. I was always really impressed (and slightly jealous!) of Joe's brilliant ability to articulate his thoughts and ultimately, through his work, to help other businesses really crack their tone of voice and bring things to life. Speaking to Joe it's clear he's…
I was over the moon when Natalie said yes to the opportunity to speak with me here in my series about Ethical Marketing. She's someone I've followed in the SEO world for a while now, and always impressed me with her ability to stand up for the various things she's clearly very passionate about 💪. Not only is she a champion of many very worthy causes, but she's a brilliant SEO - and (like myself) thinks of herself as a bit of an all-rounder, allowing her to cover lots of ground in her role as an SEO consultant. If you're…
I'm really excited to finally be launching my new "Ethical Marketer" series with the help of Sally Fox, a copywriter from the UK who like me is also based out in Spain. I first became aware of Sally via the DMU, and her being based not only in Spain but also in Galicia (kind of the county equivalent) I was always keen to keep in contact with her. When I first had the idea to do a series that interviews other people who work in a similar field as myself (digital marketing, in some form or another) with similar interests…
Matt's Musings on Ethics, Sustainability, and other topics
Sometimes I like to put pen-to-paper (in digital form) and write about topics relating to ethics, sustainability, and other less covered but still important areas within digital marketing. By no means am I an expert on any of these topics - I just really like to explore them, and ultimately to learn more about them. I'm always very interested to hear the perspectives from others too - so do join in by adding a comment or sending me some feedback.
I've been thinking on this one for a while - what is it that makes an SEO consultant ethical? Or what does it even mean to be an ethical SEO, if it is even possible? I'd decided that in the end, as with many things in life, the answer is fairly complex. Nothing is as simple as it's often made out to be. In this piece I'm going to explore what I think it means to be an ethical SEO. I by no means feel this is a shut case. I believe, as with many things, it's very open to…