I was lucky enough to work alongside Adam Lamagna for a few years during my time as SEO Manager at Travel Tripper (now Pegasus). He was a very knowledgeable, funny and passionate member of the team, and it was always great fun working alongside him!
I wanted to get his thoughts on a whole range of topics - from digital strategy for hotels in 2020 to looking at how hotels (and digital agencies) can start to rebuild following the Covid-19 impact on the travel industry. 
Since reaching out to Adam and coordinating this piece, sadly he was one of many that lost his position at Pegasus as a result of Covid-19. So, if you're reading this and you're on the lookout for some strategic digital consultancy or in need of a seasoned account manager, Adam is available on a remote basis. He continues to do freelance strategy and consulting work, while also creating more episodes and resources for his digital strategy podcast, unSTRATEGIC.

#1 - Had you ever imagined you would become an Account Manager - or was it just a natural transition into the role based on previous skills you had picked up in your career?
When I got into tech about 10 years ago, I didn't really understand the concept of account management because I started off doing front-end development work. Of course, I quickly gravitated toward client-facing roles in sales, consultation, project, and strategy capacities.
Before I got into tech I was in high-pressured and door-to-door sales, then moved into construction as a roofer and rough framer. When I was hired as a business development lead for a web agency based in Providence, I knew I could carve out a career as an account manager based on my previous experience in both sales and construction.
Sales gave me the ability to uncover what prospects' valued and construction introduced a framework for working with clients and helping them build something (albeit in different competencies).
Once I learned the business development side of tech, I worked as a strategist for a mobile app company running design sprints, as an account manager helping clients secure their websites for a security firm, then as a senior strategist working with hotels to grow their year over year revenue and traffic.
I've been in account management for over 5 years now and the experience I've had with various agencies and types of service deliveries has only made me a stronger account manager.
#2 - Is Account Management a role you would recommend for others - what do you enjoy the most from the position?
There are mainly three rules I try to follow as an account manager:
Integrity - be impeccable with your word

Flexibility - be open to change and know when/how to pivot

Communication - communicate proactively and empathetically with your clients
Account Management in the tech/web/digital world is not for everyone - you have to be comfortable with ambiguity to work with your clients. Client goals can change often, new stakeholders can completely derail scope, and changing landscapes can be challenging especially with the world in the midst of a crisis. 
I enjoy many things being an account manager: uncovering essential data for my clients, balancing business and user needs, learning about new industries and markets, following trends, etc. But the biggest fulfillment I get out of the role is talking with clients and asking the right questions to help them with their business.
As an account manager in the digital space, you have to learn how to have business conversations with your clients. Your job is to support their business goals and you do that by understanding their challenges, offering potential solutions and translating those into digital mediums.
#3 - As you need to be on top of your game across so many areas - hotel revenue and room management, digital strategy, technology, and a host of other topics, is it a role you can genuinely prepare for or is there a lot of on the job learning needed?

Good question! When I started in the hotel tech space, I knew nothing about the hotel industry or regional markets. There was a sharp learning curve for me to acclimate to each hotel market since there are different seasonal trends, different products, varying degrees of reviews, and then diverse expertise levels with revenue and room management. It took me a good six months to feel extremely comfortable having business conversations with hotel clients. 
Needless to say, there was a lot of on-the-job training, but over time I was able to create an onboarding program for other strategists that helped them understand the hotel industry quicker. By following a sequential training program that maps out important hotel metrics (and how to read them), concepts of promotions and pricing management (and how to use them), factors that affect hotel performance (and how to mitigate them), and tying it all together with hotel digital strategy will help any account manager have better conversations with their clients.
If your company doesn't have an onboarding program for your strategists, then I'd highly recommend putting one together that outlines the company's products/services, and introduces strategists to the unpredictable world of hotels. 
#4 - With their being so many updates in the world of digital marketing how do you keep on top of all channels? Keeping tabs on Google's SEO updates is hard enough - are there any sources you subscribe to, or do you mainly rely on internal updates from team members?
The simple answer for this is - I can't keep on top of all channels. There are many layers of complexity involved in figuring out the performance of hotels.
Part of that is trying to stay up to date with all the new technology coming out in addition to environmental, social, political, and economic factors. I do rely heavily on my team for updates, so if you work with a team I would recommend having an internal channel or thread solely dedicated to updates not only in the travel industry, but the digital world as well that everyone can contribute to.
If you do solo consulting for hotels then I would recommend reading Skift.com - they have great research and news articles. As well as checking out the Hotel Tech Report free resources. I'm also a fan of HBR.org, Moz Blog, Future Today Institute (great annual tech trend reports), Hubspot and Invision that will keep you up to date on the wider technological world.
#5 - Google's made lots of changes to their search results for hotels over the past few years, arguably the most impactful change being the introduction of the "hotel map pack". Do you think the hotel pack has been a good thing for hotels wanting to drive more direct bookings, or not?
This is a tricky question to answer. For the first 3-4 hotels that end up in the local map pack (based on a certain non-branded search query) it can be a game-changer. But those positions are coveted and, from my understanding, it takes a unique approach to rank in those spots.
Many of the hotels I've worked with in the past have difficulty ranking in the map pack. It seems as if Google places a higher value on hotel chains than independent ones. From a user perspective, I think the map pack is helpful. It generally shows hotels with good review rankings and gives the user proximity and pricing for the hotels.
#6 - How would you rank the following digital channels in terms of impact and necessity for independent hotels that are looking to capture more direct bookings in 2020? Social media, Organic search, Paid search, Email marketing (and any others I may have missed?)
There are a lot of layers to this answer. Over the last year and a half, Google has taken over the hotel industry by providing users with a better consumer experience to shop for the right hotel.
Since Google added in the map pack, metasearch panels with comparative pricing, comparative reviews, a price per night checker, related hotels, mobile features, and not to mention the Google Hotels Platform - users are staying in Google's funnel more than ever. 
So, independent hotels have had to adapt their strategy accordingly to survive against bigger chains and Google.
One of the most important things for an independent is to remain visible in the Metasearch panel beneath the GMB knowledge graph on the right rail when users search for their hotel. If hotels do not have their official website listed and displaying comparable (hopefully competitive) pricing, then direct bookings might suffer.
Google is shaping the way users are searching for hotels, and a big part of a user's journey is discovering competitive pricing in the Google Metasearch panel. Unfortunately, hotels have to "pay to play" and will need to find a balance between their cost and ROI. 
In the past year, we have seen declines in Organic revenue and traffic for many independent hotels as digital marketing efforts like Paid search have increased due to Google prioritizing paid efforts. However, Organic still seems to be a top revenue-driving channel.
Collectively, in Google Search Console, we've seen bigger declines in Organic clicks, but increases in Organic Impressions mainly with branded keywords for independent hotels. Year over year, this means that many hotels are ranking for more branded terms (which signifies more search queries) but are not being clicked on as much, which again, may be due to Google emphasizing more paid programs.
Independent hotels are losing more of their users at the top of the funnel which is hard to combat. One option is to do a content inventory and revamp on your website; a hotel should place top priority on the revenue-driving content (rooms, offers, location, etc.). That content should be performing well for SEO, answering users' questions, and driving users to act.
Another option is to drive more non-branded traffic to the website through blogging and other content marketing activities, but this has its downfalls. Driving more non-branded traffic to a hotel website can (and probably will) lower conversion rates because you'll get more users that may not have the intention of booking a room or offer. With that said, blogging should be a part of a bigger content strategy where it will see more conversions on the display retargeting side since there will be a bigger pool of users to market to due to driving more informational-intent traffic.
It's also imperative to be on social channels and email depending on the make-up of your guests. Instagram is big with Millennials and many of them check hotels' social feeds to get an idea of what a hotel has to offer.
Independent hotels should work with their social media vendors to find out more about user engagement on specific social platforms and use them accordingly. In the past few years, email marketing still remains a high converting channel and should definitely be used to promote specials and good content that the direct hotel website has to offer.
Good list management will determine how well a hotel's emails convert. I'd recommend pushing out at least two emails a month: one promotions-based and the other content or newsletter-based. Find out which users are converting on which types of emails and segment them into smaller lists. Then a hotel can have granular user lists that convert well with different types of emails.  
#7 - One of the biggest changes I've seen within local SEO for hotels over the past 6 years or so has been the evolution from the traditional non-branded search marketing strategies (trying to build non-brand search volumes through onsite content marketing and other offsite SEO activity) to become more about brand reputation and brand management.
So for example, more of a focus on collecting reviews (in Google and across other key OTA's like TripAdvisor and Booking.com) to ensure higher visibility during the customers booking research. This is in the hope of generating more brand awareness leading to higher branded search across key channels (mainly organic search) where it's easier to capture the booking.
So really a move away from your typical "hotels near big attraction" SEO or PPC keywords to a focus on driving branded search.
Would you agree with the above or make any other statements? Or have I over simplified what's been going on (albeit in a slightly long-winded way!)?
Haha - this is a great question and one that merits deeper exploration. I would agree that brand reputation and management should be a huge focus for hotels.
User-generated content (i.e. reviews) carries more weight with potential guests than hotel-generated content. We've actually seen correlations between poor reviews and decreased direct bookings for hotels since the percentage of travelers that make decisions based on reviews increases year over year.
That doesn't mean that hotels should shy away from pushing non-branded search queries, it really depends on what they have the budget for and whether or not the hotel can truly affect the offline experience. Increasing brand reputation for a hotel can be very challenging because it starts at the hotel then transforms online.
Let's dissect what most users will review when they decide to leave one:
Condition of the room

Condition of the hotel common areas

Hospitality of the hotel staff

Available amenities

Location and surrounding areas

Overall trip experience
One of the worst things a hotel can do is falsely represent their hotel online that's in contrast with the offline experience as that will most likely lead to poor reviews. I'd recommend making your potential guests aware of anything happening at the hotel like renovations,  construction across the street, unavailable room or shared amenities, closed attractions, etc. to help users make better decisions. 
The other option for hotels trying to promote good brand reputation is to ask or incentivize guests to write reviews if they've enjoyed their stay. And remember to always respond to poor (and good) reviews to show other potential guests that your hotel is quick to reply and cares about their users. 
Now to answer the above question, brand reputation should absolutely be a top-priority for hotels and take precedence over pushing non-branded searches. Finding that balance between what a hotel can control or improve to enhance their brand can be tricky and oftentimes comes down to allocated budgets.
#8 - Can on-site blogging help a hotel to drive tangible "secondary" goals, like meeting room inquiries, wedding venue inquiries and so on - or, provide actual bookings at a hotel? Or do you feel the value of a blog (on a hotel's website) has been lost somewhat? Is it more to help build their brand and to communicate to their guests (past and future)?
In 2019, there were over 4 million blog posts that got published on the internet every single day, which should give people an idea of the importance of blogging. However, in my experience, blogging doesn't seem to drive a lot of revenue for a hotel directly. Indirectly, blogging can be very effective in mainly the two ways you've listed above:
Driving secondary goals: I've worked with hotels focused on being the content authority for terms like "winter weddings" or "summer family concerts" or "business travel hotels" and they have seen indirect revenue come in from that. But these hotels had solid content strategy plans with defined content calendars, targeting medium to high volume SEO terms, and related topics that push one main concept.
The first thing hotels should do to drive secondary goals through blogging efforts is define what makes them unique or stand out from their competition and build content around that concept. Write detailed content (usually known as cluster content) around one core topic, develop subtopics, and promote that content on pillar pages (pages that cover all aspects of the core topic). Tie that content into landing pages to drive leads for weddings, events, meetings, or certain types of demographic guests. Then rinse and repeat based on another secondary goal.
Overall value for users/guests: For a hotel that blogs, they will get more traffic but not necessarily more revenue. However, the value they receive out of more traffic is extremely hard to measure. But Google does place value on fresh content, so at the very least, blogging may increase their ranking or authority online.
If a hotel decides to produce blogs for their readers/users and they don't have a main concept or unique value proposition, then connect with the hotel front-desk staff or concierge. If you can get a sense from hotel staff what questions guests are asking throughout their stay or at check-in/out, then it's a pretty safe bet users are looking those questions up online first. Blog about those questions to create more value for your users and guests. 
#9- Travel Tripper (now known as Pegasus) had a digital agency that was made up entirely of remote staff - yourself included. Had you looked intentionally for a remote friendly role to begin with, or was it more by chance? What do you do to stay sane - and is it sometimes difficult for you to switch off when your day is up?
Remote work can be both a blessing and a curse. I've been remote for over 4 years now and for the most part I really enjoy it. I like the flexibility with my schedule. I enjoy taking my dog for a midday walk or going to the gym for an hour around lunch. The biggest challenge I've had with remote work is conditioning myself to "turn-off" for the day. There have been many times where I'll be so wrapped up with the current task or project that I'll be online for 12 hours a day, which isn't healthy.

In the tech field (for the most part) I could do work 24/7 and still not be finished with it. It's crucial to create a routine for yourself being remote or you can be susceptible to overworking (or I guess not working enough) - my issue has always been the former. In order to combat that, I siphon off certain times to devote to email responses (one hour in the morning, one hour in the afternoon). Then the bulk of my day will be open to chat with clients and concentrate on work.

In order to stay sane, I have a daily-ish meditation practice where for roughly 10 minutes a day, I completely let go of any outstanding issues, major concerns, and tasks that need to be done.
#10 - You famously took a few weeks off work to visit Japan for a few weeks and came back with some very cool stories! Was that your favourite holiday - or got any others you'd love to share?
Japan was amazing! There's something special about Japan that's hard to explain unless you've been there. It's almost as if everywhere you go in Japan there's something really interesting or cool to see or do.
The Japanese take great pride in their country - there are lots of curated gardens, well-groomed hiking trails and roadways, historical temples and castles, and the landscape is so diverse and beautiful.
You could walk down a busy street in Tokyo and find a back alleyway that's completely desolate but has these really neat hanging paper lights.
Or you could be walking on a trail and see an old riverboat cruising down the turquoise waters
Or you could climb to the top of a Buddhist temple and take a picture that looks like it belongs on a postcard (and probably is on a postcard somewhere!).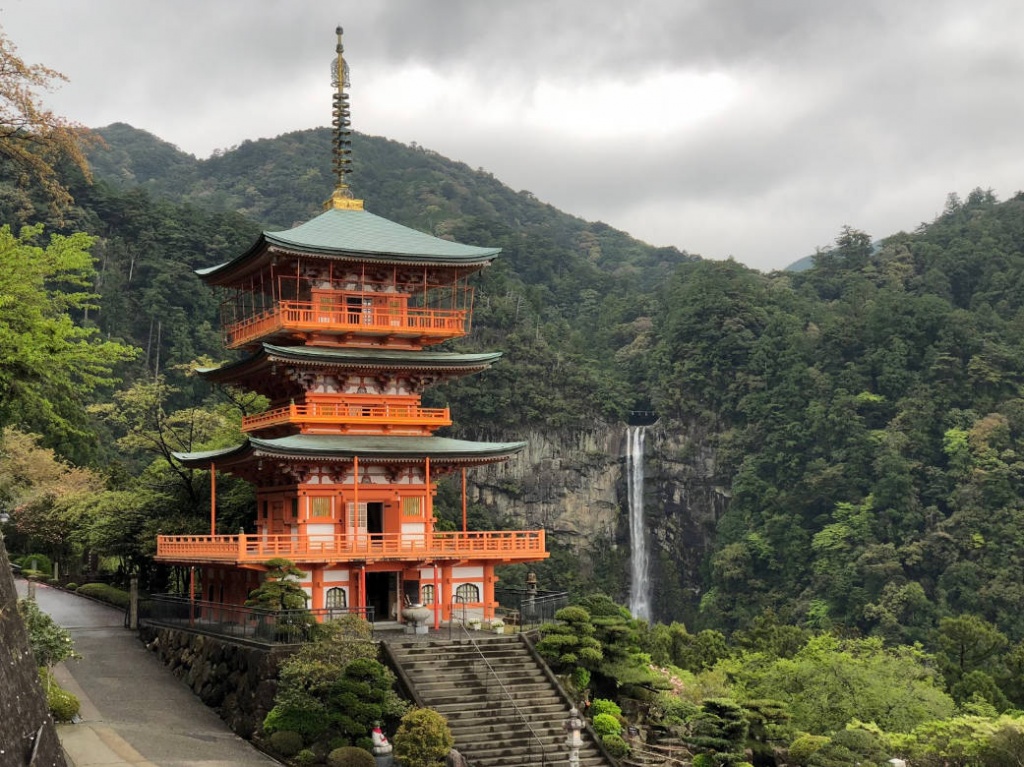 I would highly recommend visiting Japan at least once in your lifetime, it's well worth the experience!
#11 - Most amazing hotel experience you've had?
The best hotel experience I've ever had was on another one of my top vacations when my partner, Shelley and I went to Cartagena, Colombia. We stayed at 3 different hotels/resorts when we were there, all of which were great: 
Hyatt Regency Cartagena - 4 star hotel, with 4 outdoor pools and great views of the ocean. 
Decameron Barú - a resort set in the forested beachfront grounds along the Caribbean Sea. We hung out with iguanas and swam in the clear turquoise waters.
Casa Claver - a boutique hotel set in a 17th-century, Colonial-style building in Cartagena's historic district.
Casa Claver was, by far, the best hotel experience I've ever had. The hotel rooms were big, rustic, and very comfortable. The rooftop pool was relaxing with views of the Walled City of Cartagena where the hotel was located. It had the friendliest hotel staff I have ever encountered. My partner secretly conspired with them to bake me a cake (the last day of our vacation was my birthday) for breakfast before we left for the airport. The hotel really went the extra mile to make our stay unique and we were very impressed with the level of hospitality. The whole trip was fantastic. Being in the adventurous, romantic city of Cartagena with the person you love was an exhilarating experience. The historic churches, old statues, small cafés, and the fortress that surrounds the city made our experience one to remember!
#12 - As COVID-19 continues to spread, the travel industry appears to be getting hit the hardest. How is this changing hotel strategy and what effects has it had on web agencies and/or other hotel tech service companies?
Great question and one that needs to be dissected a bit. It does seem like COVID-19 is somewhat industry-agnostic right now. In the sense that it's not only affecting the hotel industry, but the airline industry, food service industry, gyms, banks, museums, small business and different sectors around the world. Which carries some serious broader implications for the world economy that we're all concerned with. 
With that being said, yes, the travel industry has been hit extremely hard by this pandemic and it is having a drastic impact on hotels, the digital agencies that service them, and the strategies they're using to mitigate risk and manage the situation. In fact, a previous agency I worked with laid off over 70% of their workforce because most of their hotel clients have seen massive declines in bookings and are shutting down. For hotels in the United States (major chains and independents) that are in the most affected areas (New York, New Jersey, California, Washington), they are closing their doors until May (or later) to diminish the impact to their revenue streams. There has also been a radical shift in digital ad spend. So, needless to say there is a lot up in the air right now and where things will land is still hard to know. 
Every hotel is going to have a different approach dependent on where they are located, what their current financial position is, their guest demographic, and whether or not they are still seeing bookings.
For digital agencies working with hotels or in the travel industry, their strategies are going to be different. Many are having to take unprecedented measures by cutting as much of their overhead as possible. Unfortunately, for most, this means laying off or furloughing people / employees. In any crisis management situation, the first thing agencies need to do is take stock: 
Financial Triage - what is the current financial position of the agency? What expenses are needed, which ones can be cut?

Customers - How many customers are still paying? How many have halted their invoices?

Value - Where can the agency generate more revenue? Or where can the agency add more value to revenue-generating customers?
In my opinion, the digital agencies that strive to create more value for their customers, allow for flexibility in their service contracts, and show transparency with their customers (and employees) will have a better shot of making it through this pandemic. The reality is that some agencies (and hotels) might not make it. But, I'm hopeful that with the precautions the world is taking now will help get things back to normal sooner than later. If any hotel or digital agency needs consultation, please feel free to reach out so I can help with any specific challenges.
You can find Adam Lamagna on LinkedIn here - or contact him through his unSTRATEGIC podcast website here.