I worked with a brand new online gardening brand that aimed to share information that encouraged people into gardening. I assisted them with choosing and setting up their CMS (WordPress) and selecting the right page builder solution, as well as providing technical SEO, content optimisation and link building.
Challenge
To help launch a new brand in a competitive online space, helping to ensure their website is visible on Google for a variety of competitive non-brand queries relating to gardening, enabling them to earn revenue from a hybrid model of advertising and utilising affiliate networks.
Solution
I guided them to setup GeneratePress as the theme, coupled with GenerateBlocks, running on WordPress - a very fast and powerful combination which would be able to comfortably power the content they were planning on producing. I assisted with the technical SEO setup of the site, making use of the Yoast SEO plugin to optimise the site. After advising on keyword research and carrying out onsite content optimisation, working to ensure future blog posts followed a tight editorial process, my focus switched to generating links to their domain. This was to ensure they had enough domain and topical authority in order to rank in what is a very competitive space. I utilised journalist-focused services like HARO and Qwoted to help place my client and his team of writers as experts within their industry, where their quotes on a range of gardening topics would be published across the web along with links back to the brand. After domain and topical authority has been established, I later advised on and implemented the Web Story format which has allowed us to repurpose existing content and to target placement within the Google Discover feed.
Results
After a few months of working together the brand new website is generating over 2,000 monthly visits from Google and has picked up nearly 120 referring domains, with 320 backlinks to date according to Ahrefs data.
Over 2,000 monthly visits on average since the site was launched
Grew traffic by 84% by repurposing existing content as Web Stories, landing Google Discover placement
Landed links from very authoritative domains including Yahoo.com, TheSpruce, MarthaStewart, HomesAndGardens, and many more.
There are now over 130 domains linking to the domain.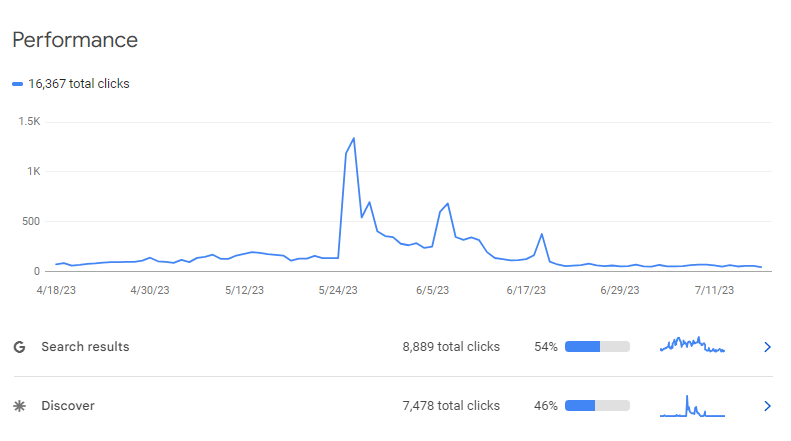 I wrote more details on repurposing existing content to land Google Discover placement in this blog post.
Hire Matt for your next SEO project 📈
Interested in discussing my SEO services further? Don't hesitate to reach out for a friendly informal chat.