I haven't done one of these public SEO audits for a while now - and whilst they're not going to be the most comprehensive review of a website, hopefully they paint a fairly nice picture as to what a company is doing with their SEO strategy.
Today I've decided to take a look at Ecologi.com - a website that helps other businesses to become climate positive.
As a side note - this is the kind of company I'd love to work with (hint hint, in case the team at Ecologi are reading this!) as they definitely align with a lot of the values I look for when I come to work with a company as an SEO consultant 😍🌍
Regardless of your views of saving the planet (hopefully you're on board?) it's always interesting to delve into the SEO performance of another website. On with the mini-audit!
Who are Ecologi?
They're a UK based social enterprise working hard to fund projects around the world which help to reduce our carbon emissions. I don't want to get too heavy into the nitty-gritty of the term "climate positive" as it is a fairly loose phrase that can be hijacked by brands that want to LOOK like they are very green, when in fact they are not.
Being climate positive is seen as a way of ensuring that you as a person (or business in this case) are absorbing more carbon dioxide then you are creating. So if you as a business emit 100 tonnes of CO2 over the course of a year, with Ecologi you'd need to ensure they're taking away 100+ tonnes to become climate positive.
Lots of brands are capable of engaging in greenwashing which is when they make use of a cause like Ecologi and create a lot of marketing around this, to put a spin on themselves being very green, eco friendly and so on, when in fact behind the scenes they may be doing little to reduce their actual CO2 emissions.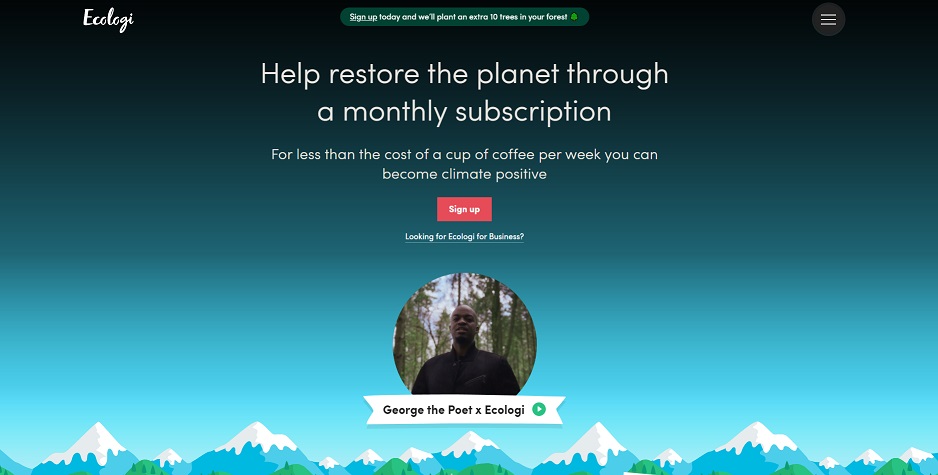 Just because a company pays to offset their carbon, it doesn't mean they are suddenly absolved from any responsibility to reduce their actual emissions.
To be super clear - I'm not saying Ecologi are greenwashing or are engaging in such activities - I think they are an extremely worthy cause to be involved in, and I personally (as Matt Tutt Digital Marketing) have been paying to offset my carbon emissions as an SEO consultant for a few years now (check the link in the footer of my website). But - in my opinion this is the bear minimum we should be looking to do. Thankfully I don't create as many emissions as a big company does, but I'm still mindful about ways of reducing my own emissions outside of using Ecologi.
Ecologi themselves aren't registered as a charity, so they're not a non-profit. Their reasoning is that to become a charity they would be limited to relying on donations and government grants to reach their goal of scaling quickly, such is the extent of the climate crisis. There's more info on this below, from the Ecologi FAQ's page: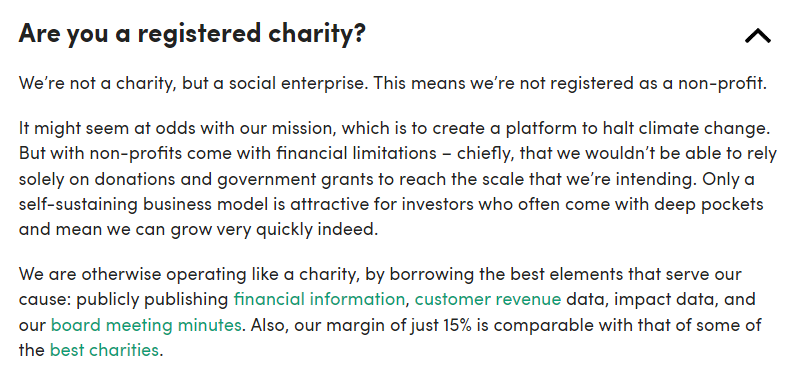 I've heard of registered charities that have huge costs - paying upper-level staff massive salaries and the such. So to me I see no reason why Ecologi not being a charity is problematic. Ultimately they're a company that is aiming to reduce the impact of climate change and to help fund worthy projects (and provide a worthful, meaningful income to people from disadvantaged communities) around the world.
What are Ecologi's goals?
Before I start to even think about working with a new client I always need to know what it is they're trying to achieve. Having worked with all kinds of businesses during the past few years, from charities to small local businesses, to tech and SaaS brands, ultimately they do all have their own goals - otherwise they wouldn't need to hire an SEO specialist like me.
Whilst for some of the smaller local businesses their goals are usually fairly clear and tangible, for some NGO's it can be a bit more muddled. Not only are they tied to clear financial targets, such as the number of active subscriptions or the amount of revenue generated, but some will have the secondary goals of helping to educate others about the impending climate disaster.
Whilst Ecologi will ultimately want people to join the platform as a business and to donate a set amount of money to the cause per month, I imagine they are also happy to know they are educating people as to the problems climate change have bought to people, and will continue to do so.
As an SEO consultant or anyone else that looks to help a business digitally, I imagine it's imperative that you know what it is that you're all actively working to achieve. In this case it won't simply be pageviews, or visits from Google, but actual business signups and ongoing commitments.
What does the Ecologi website look like?
Checking out their tech stack quickly, things look fairly technical and quite heavy! I've dabbled with a few React JS based websites, and can't say it was much fun (I think I'd rather trim my lawn with a pair of nail scissors if I'm being honest) - but I'm always up for a challenge!
Having a JavaScript powered website is likely a must in the case of Ecologi, and going for the kind of growth I think they're aiming for. Based on checking out their team profile page, they're a fairly techy bunch (at least Alex Price, one of their co-founders!) and it was probably a necessary platform to be adopting, one that they can continue to build upon and improve based on their requirements.
Not every business has SEO at the forefront when they launch their website, but I'm confident that in this case they have taken SEO into consideration.
For those green/eco/sustainable people who also prefer to stay clear of cookies and being tracked, they probably won't be too happy with what's in use on the Ecologi site. There are various tracking pixels and tags in place - TikTok Pixels, Microsoft Clarity (which could be used as a heatmap to record user activity on the site), LinkedIn Tags, Google Analytics, Google Ads Conversion Tracking, Facebook Pixels… and more!
I'm not saying that they are doing anything that they shouldn't be - but they seem to be well versed in social media marketing, and in the importance of tracking and the analysis of user behaviour on the website, something I imagine many NGO's are a long way from doing.
Personally on a non-SEO level - I do love the look and function of the website. It's fast and easy to navigate, and clearly communicates what they're trying to achieve - and how.
They seem to have made a concerted effort to be transparent in their offering, and to not just hide behind vague lingo which is often the curse of many NGO type websites. They're backing up what they're saying with tangible proof - allowing you to see the actual projects that the money is going towards.
What does Ecologi's onsite content strategy look like?
I wanted to touch upon this before diving deeper into their visitor data, to give more context. It looks like their approach is fairly simple, as we can see from dissecting their main site navigation to understand the framework of the site:
1 - Homepage: a nice lengthy page which showcases the problem they are looking to solve, how they solve it, and so on.
2 - About us page: important in this case as you want to be seen as trustworthy and commited to the cause, especially as they can't claim to be a charity
3 - Our Projects: where they detail the ways in which they are working with communities around the world to reduce carbon emissions
4 - Blog: somewhere for them to store their thoughts on a wide range of eco topics, as a method of bringing in more relevant people to the website
5 - Business: a page targeting businesses looking to reduce CO2 emissions
6 - Gifts: a page to gift "trees" to someone, or to another business)
7 - Collective Action: a nice visualisation of where they are on their journey and how they have helped so far
8 - Contact page: as you'd want to see from most businesses on the web
9 - FAQ page: a place to find the answers to any questions you may have about Ecologi
10 - Sign in page: for registered members to login to their account, check invoicing, check their emissions status, etc
11 - Sign up page: to join Ecologi as a paid member.
If there was an observation here based on the navigation menu it is that a) some people argue that using a flag to denote another site version isn't the best UX, and b) that as the website only exists in English language currently, it might be misleading to show the flag toggle option - this actually just shows different currencies (and emissions calculations) when switching to a different region.
Obviously if international SEO was a target - and I imagine it is, for an organisation that deals with such a global threat such as climate change, then getting the site translated would be quite high up on the priority list.
Looking at their site as a whole from a Screaming Frog crawl, it's largely a mixture of the key pages as listed above, quite a few blog articles, project articles that describe the work they are supporting, and then a huge amount of company profile pages.
These company profile pages, or kind of UGC (user generated content) are at the forefront of their SEO strategy, whether intentional or not. All members of the organisation get their own public company profile page, and these are all accessible, and often indexed, by the search engines. Again, I'll come back to these further later on in this audit.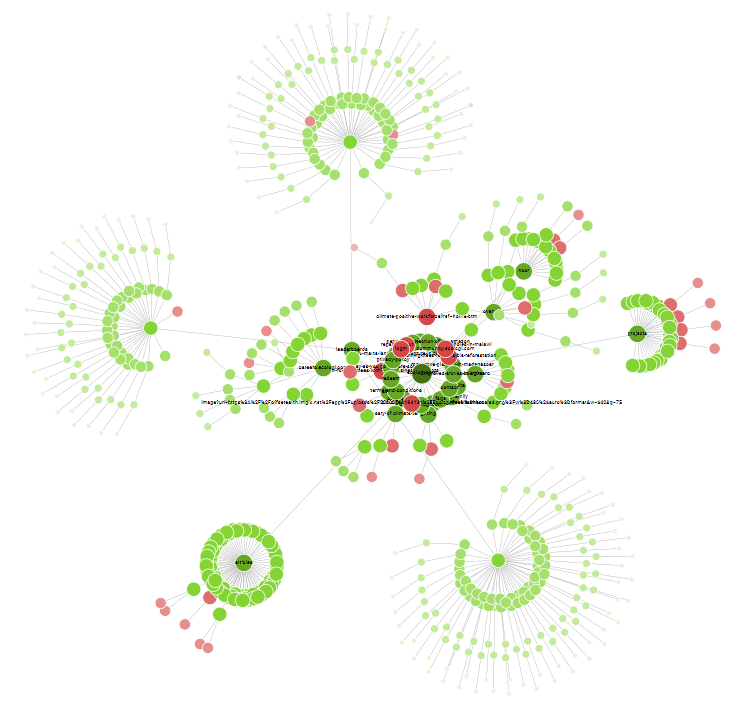 What does Ecologi's organic traffic look like?
So as a disclaimer I'm using Ahrefs SEO tool for most of the data below - this gives one of the best insights into a website's organic performance when you don't have direct access to the likes of Google Analytics of Search Console.
For me I think Ahrefs is one of the best tools out there for this, and their insights are usually accurate. They'll never be 100% right though so 3rd party data like this should always come with a grain of salt (sustainably sourced salt, in this case)…
It looks like they're getting 8,500 visits per month from Google, whilst having visibility for just over 11,000 keywords.
They have a total of 2.49 million backlinks - a very impressive tally, and is one I'll cover in more depth later, and have just over 6,500 referring domains (or websites that link to them). As you might have guessed, they get a lot of site-wide links which makes the 2.49 million figure feel a little exaggerated.
As you can see from the Referring domains graph, they've seen huge growth in the number of links obtained since January 2021. Again, I'll touch upon their offsite SEO strategy later on in the article.
Here we can see the estimated 8,545 visits per month from organic search, and the nice growth since around March 2021 (this actually began closer to January).
The orange graph shows that whilst they have some visibility for a large number of keywords (ranking between positions 30-100), there is a relatively small percentage of keywords where they have strong (top 3) positions. Again, further on I'll cover why this is likely the case for them.
Looking at the organic traffic by country (right side of the graphic above), the UK is first at just under 39%, and it's a surprise to see Australia so high up here at 33.7%. It's usual to see the most organic traffic coming from where the company is based (Bristol, in the UK, in this case) but it's a close call with Australia.
It could be that some of the carbon removal projects are based in the area of Australia, or that perhaps Australian's are more "switched on" when it comes to the threat of climate change and global warming? It could be something that Google Trends, or some basic keyword research, would help to solve…
The United States is next on the list with just over 7% of traffic. Again it's a surprise - seeing a country with such a high population and such low visits, considering the website only caters for people who speak English. Again, this is the type of thing I might make a note of when I'm carrying out an SEO audit or analysis for a client. It could be that the US is a potentially large audience where organic visibility is suffering for some (technical?) reason.
Organic keywords and rankings for Ecologi
Out of those 8,500 visits per month from Google I wanted to see what the breakdown of these keywords are like - I'd assume for them it's largely brand based but Ahrefs' report is a good place to check this.
So unsurprisingly the #1 driver of organic traffic for them is their brand name keyword - "Ecologi". There is a mixture here of branded traffic coming from other brands - which isn't that common. This is because Ecologi host these business profiles on their site.
As you can see from the highlighted keywords above, there's a large chunk of traffic coming from those other businesses, but I'd say in terms of true value (are those going to be meaningful visits) I'd say there's little to no benefit to that traffic. Whilst it might be nice to have and might help with branding for Ecologi, it will have little other value.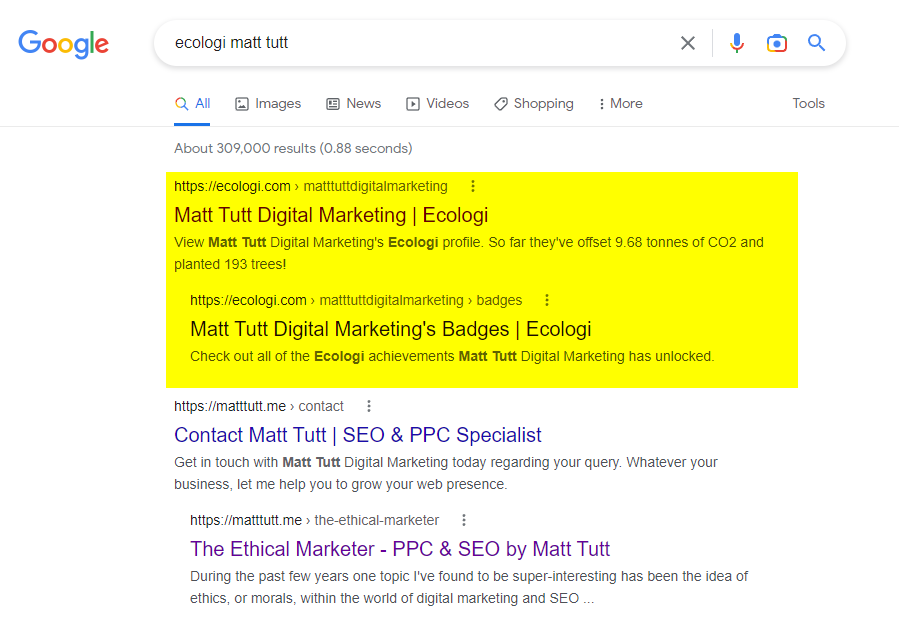 In terms of valuable non-brand traffic I think this is quite low and so this would be a good one to work on improving. In the above the types of keywords I'm referring to are "mangrove planting", "carbon neutral vs net zero" and so on.
Those keywords also rank outside of the top 5 positions in Google, so those would be good ones to highlight and to work towards improving. Unless they can rank in the top 3 spots they'll not get much traffic from those.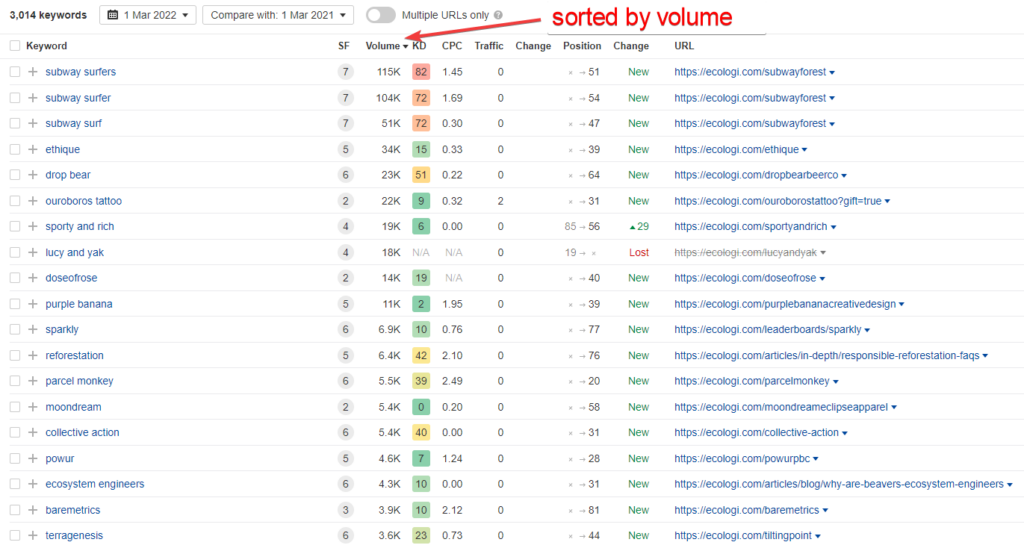 If we sort these keywords by traffic (see above) by high volume to low, we can sometimes find examples to make improvements based on the current rankings.
In this case most of these keywords are based on the profiles that Ecologi host.
Side note - for SEO and analytics reasons it would have been great if Ecologi had hosted those business profiles in a specific directory, eg https://ecologi.com/p/subwayforest - just as a way to segment those and filter them from their reports, or even to have used a subdomain (business.ecologi.com).
A look at Ecologi's offsite SEO
By offsite SEO we're simply looking at SEO factors now that exist outside of their website, and again this will largely be done using the Ahrefs tool.
With nearly 2.5 million backlinks they are apparently doing something right! But with that number the total estimated organic traffic is still low - you'd expect more based on this link count, but I think this is because they get a number of sitewide links from the businesses that are registered with them. That includes me! Just check the footer on any page of my website - you should find a badge and a link to the Ecologi site.
This is a clever tactic and a nice way to boost the growth of the brand whilst at the same time picking up a huge number of links. I'm not sure SEO would have been the main reason behind Ecologi setting up these badges, but it must have been a positive consideration.
By giving businesses something positive to shout about, and a way to kind of "certify" their green credentials, they've been willing to add these badges to their website. I know that's why I added it myself 😎.
Links from a website footer in a sidewide manner might not do much to boost SEO performance but if done on such a large scale as has been done here, it must still bring a huge trust signal to the likes of Google.
It's important to note here too that the badge doesn't just link to the Ecologi homepage - but to the profile of the business itself, hosted on the Ecologi platform.
So my badge links to https://ecologi.com/matttuttdigitalmarketing - and this page also has a nice link that points back to my site. As a reciprocal link the true SEO value is probably diluted somewhat. At this point it's worth sharing that I definitely didn't sign up just for a link from Ecologi… honest!
It's also not a nofollow link…
I also didn't think that Ecologi puts pressure on you to add the badge to your website, it's an optional extra. I did it because I'm happy to show I care about the environment, and that I'm invested in the cause - and that hopefully it might encourage others to sign up too. I imagine others have a similar reason to do so.
Looking at the referring domains report in Ahrefs, there are some very big names here - the BBC, WordPress.org, Microsoft.com, NYTimes.com, TheGuardian.com… all very positive signs here from when the company has been covered by media stories.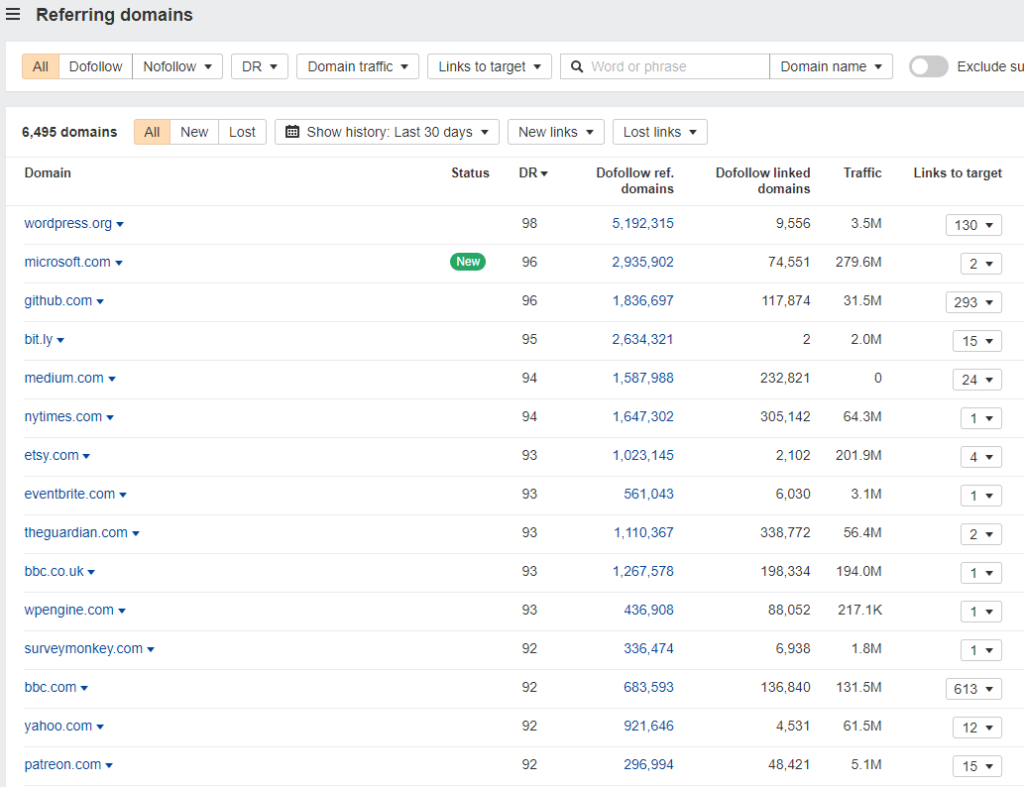 Technical SEO issues on the Ecologi website
Again, as a massive disclaimer - this was a 30 minute audit. I don't tend to ever complete audits at that kind of speed for anyone (thankfully!) so I don't doubt I've overlooked things or went in the wrong direction at times. I just started to look at the things that I tend to check when I'm doing a very basic audit on a brand new site with no real instruction.
No Robots.txt file
One of my first checks is to see what the robots.txt file looks like, as it can give some nice detail about what directives they have for the bots (any areas they want them to stay clear of, etc). In this case though I couldn't find it! I get redirected to a 404 error page.
This might be related to the JS setup of the site but I think the robots page should still exist at ecologi.com/robots.txt - I've not heard of cases of it existing elsewhere on a site.
So for search engines this means they get free range to crawl all areas of the site and without restriction. Usually on large sites you'll see specific User Agent instructions to prevent being repeatedly crawled by those more "persistent bots", for want of a better word.
No XML sitemap (maybe?)
I like to check robots.txt as it sometimes gives a clue as to where their XML sitemap might be based. In this case there's no robots file and I can't find the XML when trying the obvious places (ecologi.com/sitemap.xml) so again, perhaps it doesn't exist in this case?
That would be another check to clarify with their team, as structuring XML sitemaps based on content types would be a good strategy here. That separation would help their SEO/marketing team when it comes to analysing tools like Google Search Console, to check for indexing or crawling issues, segmented by page type.
A basic XML sitemap structure for Ecologi might therefore look like:
/main-pages.xml
/blog-posts.xml
/projects.xml
/gifts.xml
/organisations-1.xml
/organisations-2.xml
/organisations-3.xml
The last lines here will need many XML's due to the number of organisations that are signed up to the platform - as there's a technical limit of 50,000 pages per file, I believe. I'm not sure how many accounts are signed up to Ecologi at present.
It could also be that the organisations themselves aren't considered important content to be "fed" to search engines in this way, so those could potentially be ignored too. Really it depends on their strategy behind those pages - and were they deemed important for SEO purposes.
Configuration of the 404 error page
Checking for 404 errors on the site is interesting too. If I was to visit a page at random that I know not to exist, such as https://ecologi.com/greta-thunberg-loves-eating-dogs, then initially there is a 200 status code before I get taken to a 404 error page.

Again due to the JavaScript usage here, it's not so simple to return a 404 error code server side. Even on the error page itself I don't believe a 404 status is returned in the browser, but the page does clearly say "page not found". I also believe this to be a recommended fix by Google when JavaScript prevents the 404 being returned server side.
I don't think for sure there are issues with this setup but it's one of those head scratchers, for an SEO that usually avoids JS built sites. Part of me wonders what would happen if someone was to point a few good links to a non-existent page on their site, due to that initial 200 status code… maybe Googlebot doesn't hang around long enough to get the error page - something you could probably check from Search Console.
Ecologi's Google Ads
Whilst normally a charity would be eligible to apply for the Google Non-Profits ad grant programme, in this case they couldn't because they're not actually a charity.
Even still - they are running Google Ads which is a smart move, IMO. Often brands will stay away from these and will fail to run ads to protect their brand. In this case Ecologi have chosen to invest their own funds into running the ads.
Sadly it's quite common for rival companies to try and "brandjack" in the PPC stakes - bidding on the brand name of a rival in an attempt to poach their business. Someone who is looking for a company by it's name on Google is likely to be further down the conversion funnel then someone looking for "how to become climate positive" which might apply in Ecologi's case.
The CPC (cost per click) of running ads on a brand might be less than going after a non-brand query which is going to be far more competitive, and as well as the likelihood of them converting at that point, it can be a fairly lucrative method to acquire new customers. So - Ecologi are doing well by bidding on their name to try and prevent this happening.
It's also possible to see from Ahrefs a preview of some of the ads Ecologi have been using previously - a nice, fairly unknown (IMO) feature within Ahrefs.
From these ad formats we can see which themes Ecologi have been keen to push:
That over 30 million trees have been planted
They fund only the best "gold standard" projects
Real-Time business carbon footprinting
Help stop climate change today
Over 20,000 subscribers
Grow your own forest
Within the tool we can also see their top keywords - the times at which Ahrefs could find an advert when searching Google for specific keywords.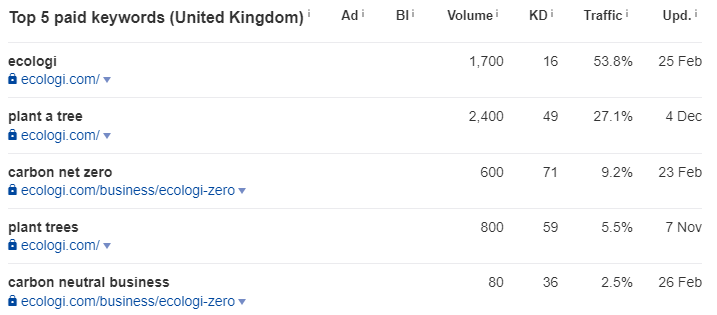 Ads and Meta Description Tags
One useful exercise can be to take the best performing ads from Google (eg highest CTR) and work those ads into the copy used on your website meta description tag, for a key page like your homepage.
The logic here is that the text used in the ad received a good CTR so you might see a similar result if you use the same text on your homepage. Ultimately the meta description tag is your chance to encourage someone to click through to your site.
In this case they could probably improve upon their existing text by making it shorter (it's currently being truncated by Google) and it could be a bit more cohesive - looks like many CTA's have just been copy and pasted here.
Meta description tags won't make or break an SEO strategy of course, but I'm a big fan of the idea of "every little helps" - these mini improvements can create quite the big growth when implemented.
Finding Ecologi's competitors
Another super simple exercise I undertake when working with a brand - what does their SERP look like when looking for them by name? And what can you learn from looking at related brands/entities?
What happens if you use the "related:" query in Google when looking for a brand that is like Ecologi? So above we can see what happens when I look for a site related to Tesco - looks quite a good match.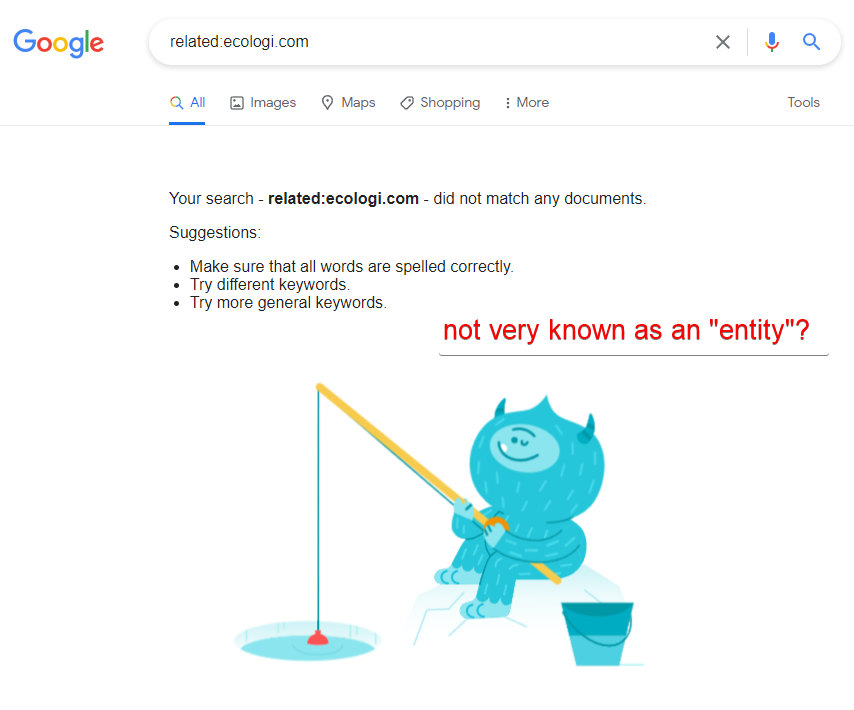 But this is what happens when I try the same for Ecologi. Not to say this is an issue but it could give a minor hint that maybe they're not a very well known "entity" at present?
I also tried using a Knowledge Graph Search tool and this didn't bring up any good matches when looking for them by brand name. So it could be that they need to work on getting their organisation more known online.
Running a Rich Results test to see what kind of Structured Data is included on the homepage didn't return anything, so it might be an opportunity for Ecologi to start using markup data to help them get known as a proper entity.
Structured Data to use could simply be the Organization markup, as well as highlighting other social media profiles (they have many in use) - just to help highlight the relationship to search engines and so on.
One way I can determine competitors to Ecologi - when Google can't, and I'm not in contact with the company directly, is to again use Ahrefs.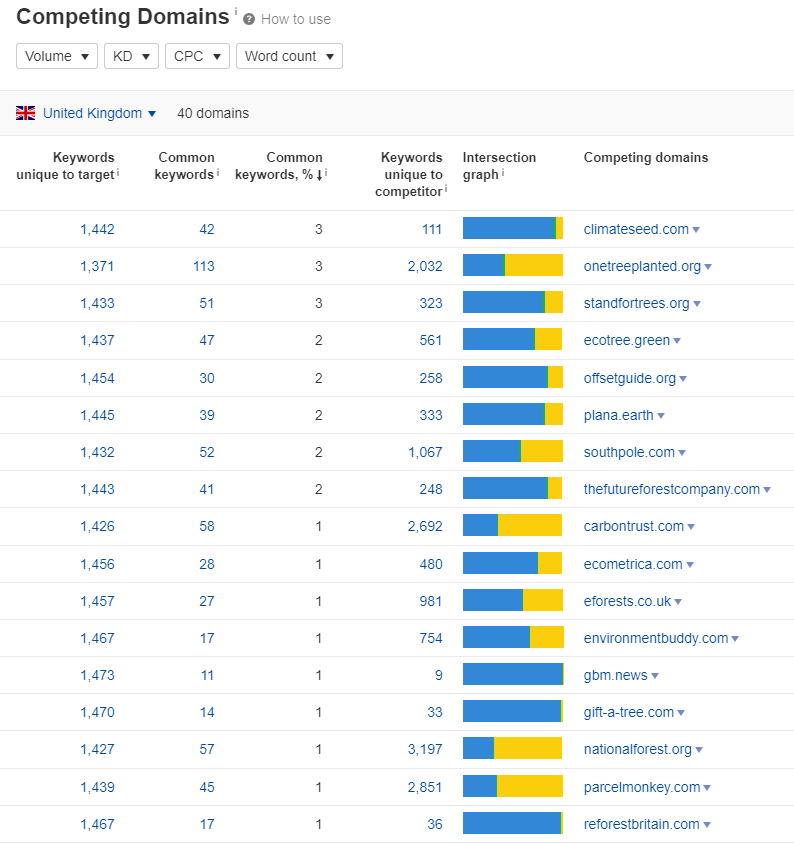 Again in a normal situation you could just ask the client for this info, but even then it's still useful to do your own research as sometimes the supposed competitors aren't actually their true organic competitors.
This report from Ahrefs can showcase any competing domains found - sites that rank for common keywords, and at which percentage they overlap.
From this report I might say that carbontrust.com would be one of their true competitors. This is because they are ranking for a lot more keywords than Ecologi and because I want to emulate their organic footprint - I want to aim high here. Another competitor might be onetreeplanted.org - they have lots of common keywords as Ecologi too (113).
Ecologi's Branded SERP
Once I know the organic competitors I have lots of ways in which I can reverse engineer their organic performance. From looking at their websites to see the content they are producing, looking at the keywords they are ranking for from Ahrefs, finding the sites that are linking to them and imitating their backlink profile... etc!
But now I wanted to see what a branded SERP looked like for Ecologi as this can help to understand the state of their organic performance to date.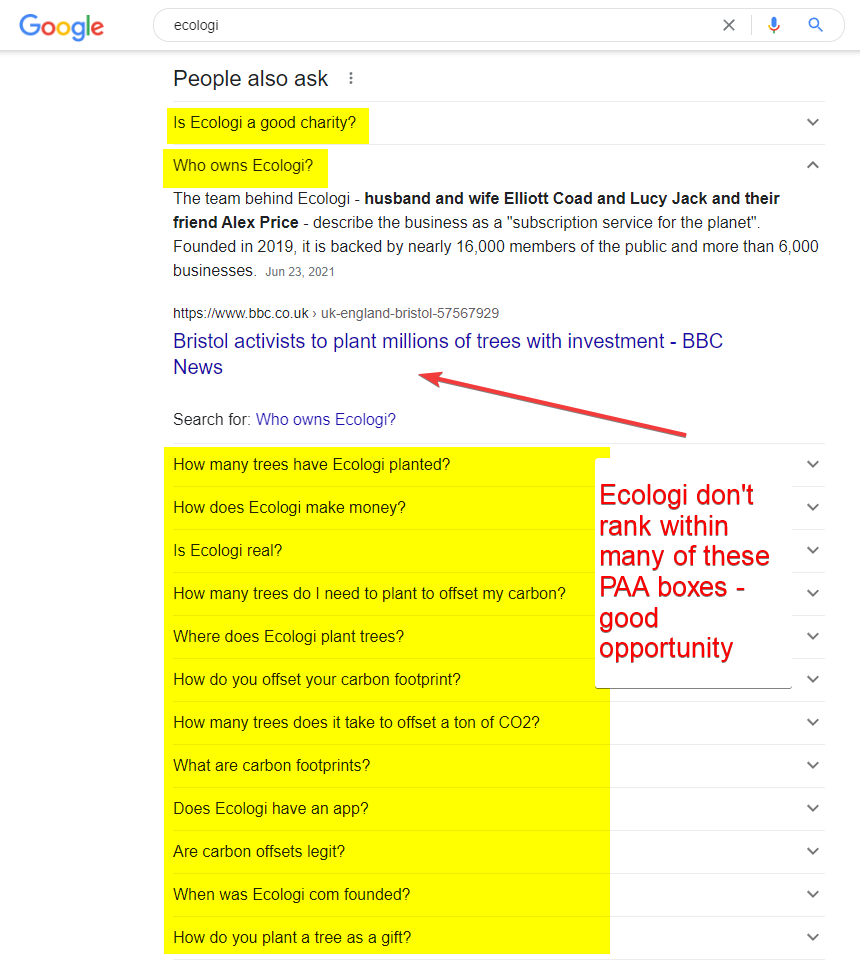 After looking for Ecologi and scrolling past their website we can see the People Also Asked (PAA) boxes. These can offer a great insight into the sentiment of a brand (try looking for "Nestle" to see an example of what I mean here) as well as showcasing some low hanging fruit opportunities.
In their case they aren't actually ranking for many of these questions - other sites are appearing here instead.
Sometimes that is fine - I don't mind that BBC.co.uk ranks for the top query here really, as they bring a lot of trust with their organisation.
For other queries though you'd rather bring the person direct to your website where you can control the narrative (aka give the best possible answer to the query to paint your brand in the best possible light) as well as obviously getting that organic traffic "hit" - where you might then entice them to sign up to the platform, join the newsletter and so on.
If you allow other sites to appear here in these PAA's for your brand then you're losing out on organic traffic and might have to live with the risk that the answer given isn't quite right. Control that by creating content on your site that answers these questions in the best possible format.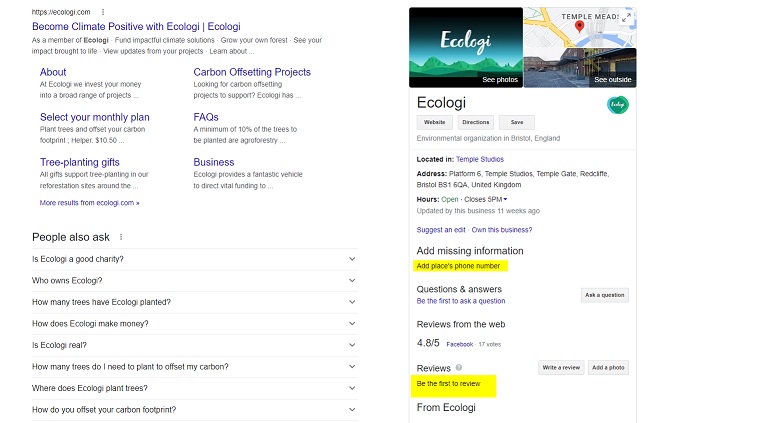 Here I've highlighted elements of their Google business listing which show up during a branded search. In this case they don't have many reviews visible, and their location is shared publicly.
I don't think having a GMB listing in their case would bring much benefit. These listings are usually only beneficial if you're trying to improve your local visibility, not for those trying to grow a brand internationally.
Another concern here would be if someone was to leave a very negative 1 star review. This would be very visible, especially for mobile users where the knowledge graph gets shown at the top of the page. Having to control these and pickup positive reviews would be constant effort - I know this having worked with lots of clients with their local SEO.
Whilst they do have an office and it does have opening hours I'm not sure if they would actually be serving clients at their premises - so if it was me I wouldn't be sharing that info publicly.
Looking at some of their supposed competitors from the Ahrefs report above, most of these also don't seem to show any GMB features.
A more telling spot check is that the "suggested companies" as auto-generated by Google here is picking up local ecological consultants, cafes - a bit of a mixed bag. It seems to tell me Google isn't quite on the money when it comes to categorising this business.
When you compare this to some of those suggested companies from the competitors - those ones seem to be a lot more accurate, and to show those organisations that are on the same kind of level. Not quite sure what links Ecologi to those local cafes, apart from their location...
The hope for Ecologi would be to be listed in their competitors "People also search for..." boxes. Not because it will deliver lots of additional traffic and registrations, but because it means they're being understood and categorised at an entity level in the right way.
SEO suggestions for Ecologi going forward 📈
It's surprising how a quick review of a website snowballs into something fairly gigantic (!) - there was a lot more I wanted to touch upon but I wanted to look to the future here instead and suggest some things that might help Ecologi going forward with their SEO efforts.
1 - Further keyword-based content to be published
A bit of a no-brainer but worth including anyway - I think there's a huge amount of green/sustainable topics that could be covered on the site, aiming to capture people who might not know about Ecologi but are keen to reduce their carbon emissions. Whilst they do have a blog and they have produced some great content so far, positions can be improved upon - and there's always plenty to be writing about!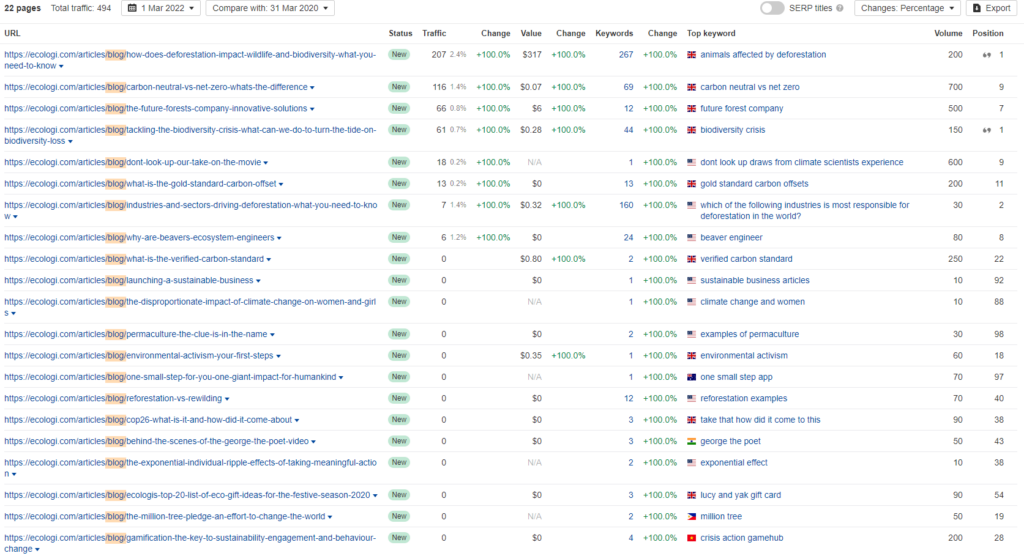 2 - Link assets for carbon calculators
A link asset might be a tool that you've built which provides a useful function of some kind. In this case there might be a fairly simple carbon emissions calculator that could be built. If SEO is inbuilt in the calculator from the start, and some outreach is carried out, the content could pick up links, rank well and deliver lots of traffic as well as leading to actual business registrations. So - a bit of a double-whammy for Ecologi.
3 - Tracking those dirty brands and highlighting their emissions
By trying to research and highlight those brands that seem to give their CO2 emissions little thought, how about a series that tracks the worst polluters by location and industry?
A database or regular posting on this topic could help put pressure on those brands to do something about their emissions, whilst also attracting more people to visit the Ecologi site and to become aware of their operations.
4 - Corporate Gifting content
Whilst they do have a section on their site that talks about corporate gifting, there doesn't appear to be a page dedicated to that topic. This might be a good one to add - and then they can internally link to the page and help it to rank organically, if combined with a bit of outreach too.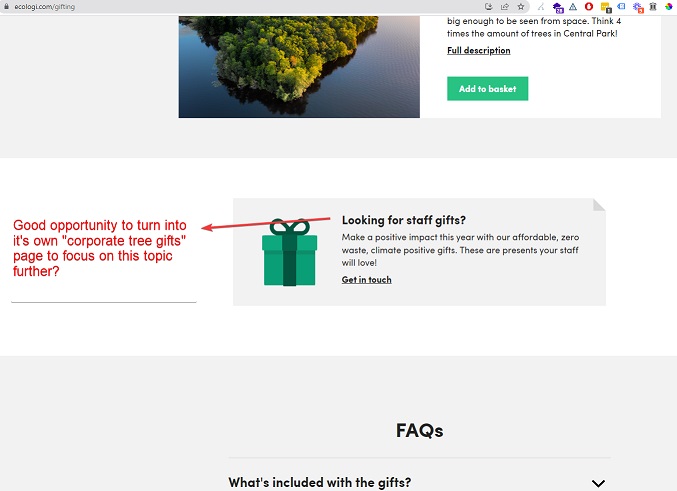 Corporate gifting with a sustainable mindset is probably a very popular theme right now, and I bet that many people would love to gift trees to other businesses, people and so on.
5 - Celebrating small companies with the same ultimate goal
By trying to actively shout about and promote other startups, NGO's, charities that are operating towards the same end goal (reduce the impact of climate change, help businesses to become carbon neutral) not only are Ecologi going to be helping those organisations with their marketing efforts but there might be some complimentary opportunities going forward.
Even creating a newsletter that highlights those organisations working towards good - it can be a good way to put Ecologi at the centre of the conversation around climate change and business obligations to be greener.
Other initiatives might include a podcast or interview series, and whilst they're a lot of work to setup and maintain they might be a nice way to build up an engaged audience - which Ecologi might already be on the way to achieving through their YouTube channel.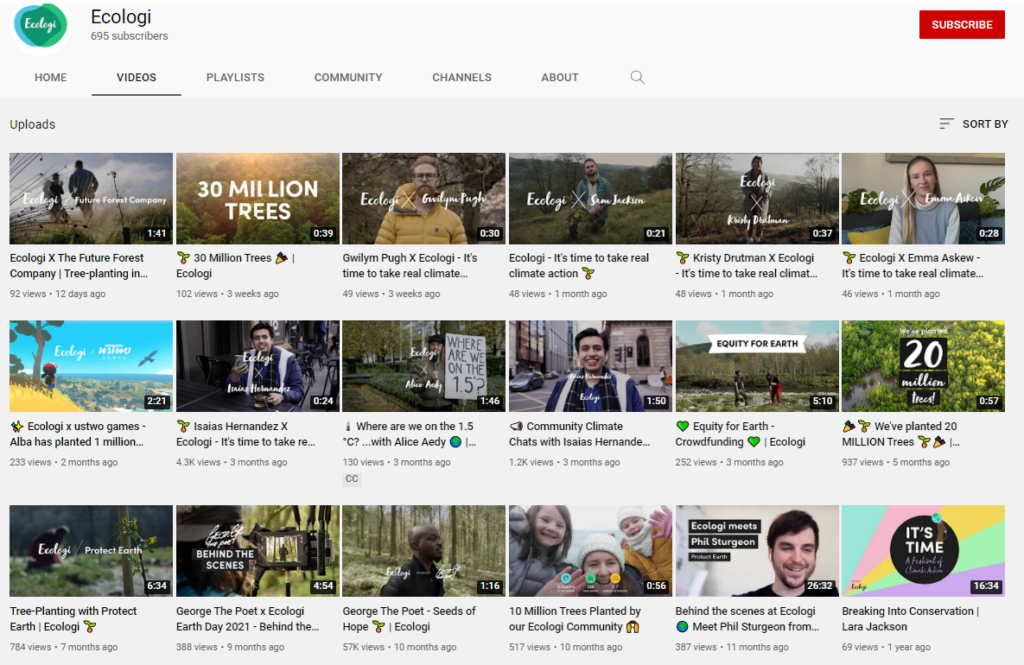 I'm a very big believe that SEO shouldn't operate in a silo and should consider all areas of operation - I think there's a big benefit to having a purposeful social and video strategy, for example, which if done correctly will help to increase organic traffic through greater brand awareness.
At the end of the day this is one of the way you can help to grow a brand - and it's hard to not rank first on Google when someone is looking to find you by your brand name.
Final thoughts on Ecologi 🌳
I wasn't always a huge fan of these SEO audits/teardowns as sometimes it felt like no thought was spared for the poor people at the organisation in question who were left without room to justify any of their decisions.
In this case thankfully I see no glaring issues or massive problems with what Ecologi have achieved so far with their online growth - with over 8,500 visits per month things are definitely on the right track!
I do think still that there's plenty of room to continue onwards with their positive growth, and I really hope they're able to achieve that - and to sign up as many businesses in the process. They're helping to fund some very worthwhile, needy projects, at a time when the climate crisis sees no signs of slowing down.
If you read this far then well done - you deserve some kind of biscuit 🍪 (definitely a Fairtrade and organic one mind you) - and please do leave a comment below with your feedback. In the end this became a bit of a brain dump but I'd love to do some more of these mini-SEO audits on a semi regular basis.
If you know of any other green, sustainability focused or "for good" business that might be a good candidate for a review like this feel free to let me know who they are and what they're doing! Leave a comment below 👇👇👇 (or just send me a message!).