Masaki Okazawa is a well-respected search marketing specialist from Pittsburgh, Pennsylvania, and is currently working at the internationally renowned agency Merkle, who is known for having built out some excellent technical SEO tools (see technicalseo.com), a technical SEO challenge (technicalseo.expert), and have some great, super-talented specialists working on their team.
Although Merkle provides online marketing solutions (and lots more) across a variety of markets, Masaki operates within the hospitality digital marketing space making him a great candidate for the Search Marketing for Hotels feature today!
#1 - It's clear from your Twitter feed that you like to stay up to date with all the latest search updates surrounding hotels and the hospitality industry. How do you manage to fit this in - is it just a case of being active on Google when searching for hotels or for travel info? Or do you have any good tips for keeping on top of Google's (almost relentless!) SERP tweaks?
I started posting SERP updates initially because I was seeking out answers for my client, it then spiraled out to become a personal project to connect with other hotel digital marketers.
Being in and out with my brand searches, makes me a bit more vigilant of changes, so I would say that's why I'm prone to seeing more updates.
My recommendation for staying on top of things is if you see something, screenshot it. I can't count how many times where I thought I saw something only to have it disappear on me a day later. The "phantom SERPs" as I like to call them.
If you can, tweet the screenshot, CC others, and contribute to the community to help keep tabs on these so that we can all work to understand organic impacts.
#2 - Google's recently rolled out the mobile-first index for many sites on the web. How have you seen this impact upon any hotels you work with - if at all? What kind of checks should hotels/their marketing agencies be making to stay ahead of the curve in this area?
I'm fortunate enough to be working with a hotel group that switched to a responsive design well before mobile-first indexing became a thing. We haven't seen any negative implications with the switch to mobile-first primarily because of that.
We did a few audits prior to mobile-first to ensure that we had all of our grounds covered. My recommendation for other agencies is to make sure that your content is both visible and accessible to the user on mobile and that the desktop and mobile experiences are similar from one another.
One of the biggest takeaways we got from mobile testing was that our templates were mobile-friendly, but not mobile-optimized. This was apparent when we had internal links being cut off in the navigation when the site sized down.
#3 - Local search ranking for hotels is understandably very competitive field. Aside from a hotels actual location, its number of reviews and NAP consistency across the web, which other factors do you feel are vital to improve a hotel's position in local search?
Google My Business has enabled hotel owners to take control of their amenities, crowds, and activities. This is in line with evolving SERP changes in the map pack, specifically for filtering results by attributes such as star rating, luxury, free wifi, etc.
If you have not done so already, update all of these attributes in Google My Business to qualify the hotel for refined user intents and build relevance for long tail keywords. You may be surprised as to how impactful this can be when trying to rank for long tail queries like "family friendly hotels in xyz" or "pet friendly hotels near xyz".
Another important factor is creating relevant content for your users based on the proximity to the hotel and the amenities that the hotel offers. Targeting keywords on a hyperlocal scale enables independent hotels to take ownership of their direct surroundings and assets with much lower competition.
#4 - How do you feel voice search is going to impact independent hotels? Personally, apart from going after "conversational" search queries and trying to optimise based around these, and ensuring structured data is in place, I'm not sure it's going to be that impactful at least in the short term. Am I very wrong? 🙂
Personally, I don't think it's necessary to optimize for conversational search queries within travel, unless it's very specific to brand searches. Voice search results for hotels are not as simple as a user asking a question then Google provides an answer to the question.
What we should be focusing on is voice "assisted" search. For example, a user asks for "hotels in washington", Google responds with what dates, then what Amenities, what star rating etc. This is going to be our new "long tail" queries as voice search refines the user intent.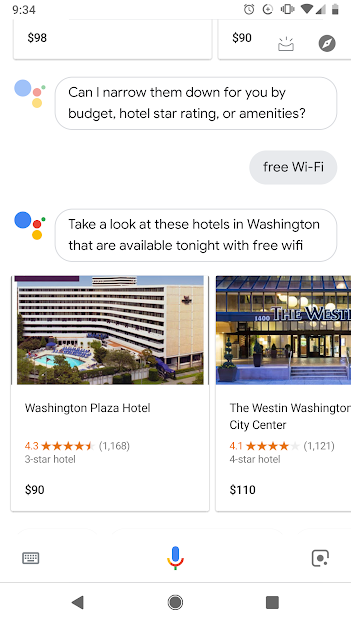 How to stay ahead? Start with Google My Business, download all of your locations, and fill out every single attribute regardless if it seems trivial.
#5 - Say you began working with a hotel which was failing to generate much traffic outside of its own brand name. What kind of strategy or direction would you look at implementing to try improving their non-branded search volumes?
Open up Google Maps, find the hotel listing, mark down the neighborhood the hotel is in. From there, search for "things to do + neighborhood" and compile a list of significant landmarks. Create a list of all available amenities that the hotel offers and build a keyword map of all possible keyword combinations that can be made.
Sort the keyword combinations based on their proximity to the hotel and then start to create/audit content based on that order. In my experience with hotels, the closer a landmark or neighborhood is, the more qualified the search traffic becomes and the more forgiving Google is in showing a hotel in the map pack.
If we're looking for link opportunities, I would center my outreach efforts around events in the neighborhood or even city due to seasonal upticks that can occur when hotels experience compression.
#6 - Following on the above... do you feel it's still worthwhile for hotels to use their blog as part of their online marketing strategy, or do you think this energy could be expended in different directions?
A blog can be tricky. If you have a well targeted content strategy, a blog can offer additional visibility for the hotel through the use of featured snippets, but if the blog produces a lot of thin or irrelevant content, it can be detrimental to the domain because it divides link authority on the site.
If a hotel is going to opt into using a blog, make sure to leverage that content in other channels such as social and make it meaningful to the customers you're trying to bring in for a direct booking. Common use cases of this would be, location guides, events in the area, guides to relieve travel friction etc.
#7 - A few weeks ago I spoke with Tim Capper of Online Ownership in the UK and asked him about the importance of Name, Address, Phone (NAP) consistency across the web for hotels. Do you include this as part of your search marketing efforts, and if so what kind of tools do you use - or do you take the manual approach?
NAP is still very much important for building a strong digital presence. Hotels need to ensure that their listings are accurate on all major OTAs, TripAdvisor, Hotels.com, Bookings.com, etc.
Most bulk local management services can push NAP information to major aggregators. Personally, we use Yext. I know that can be expensive for independent hotels.  As a cheaper, alternative my recommendation would be RioSEO.
#8 - Do you think hotels / hotel groups should be afraid of Google's venture towards their own travel guides within the SERPS, as well as the "Google One" service that appears to offer discounts on hotels... or do you feel it may bring about a positive benefit (eg more people booking direct at the hotel vs going straight to an OTA)?
Absolutely, we should be afraid. It is going to be increasingly difficult to get a direct booking for hotels because of the many barriers Google is creating between an organic search listing and a hotel's booking engine.
I also have a lot of doubt with the rates being listed in organic. Rates are a huge deal when making a purchasing decision and often times users are deceptively led to thinking they're getting a good deal on an OTA, but really they would get the same kind of deal through direct.
In an effort to combat this, I believe loyalty and rewards clubs are going to be a huge thing, which can be super hurtful against independent hotels that are not part of groups like Marriott, Starwood, and Hilton.
#9 - As an SEO you've likely advised (or been asked by) hotels regarding their number of backlinks, or about some kind of backlink strategy. Within the hotel search industry do you think backlinks are still an essential part of the online marketing jigsaw?

Backlinks are still essential for hotels to shine in search results (sadly), but if your backlink strategy is strictly focused on building "domain authority", you are likely missing out on opportunities.
When doing link outreach reinforce location in the email pitch to increase the likelihood the person will talk about the location in the content. Additionally, look to a hotel's amenities as specific mentions for your link outreach -- family friendly, pet friendly, and pools are a way to wedge yourself into less competing spaces (when applicable of course).
#10 - If you're able to share, what's the biggest technical SEO 'hiccup' you've noticed when auditing/reviewing a hotels website (clients or non-clients - whatever you're comfortable with!).
Ha! Well as much as I would like to say I'm perfect and do not have any technical hiccups, there was one case where organic visibility was impacted because of a technical update.
Although an easy fix, we did see a hotel lose their knowledge panel for brand terms because of crawlability issues with the site. The problem? They had too many jump links in their primary navigation.
Independent hotel sites are notoriously small, so Google does not crawl the pages as frequently as larger sites. If Google is having a problem crawling your tiny domain, then that can easily remove a large chunk of your relevancy signals for organic search.
#11 - There seemed to be a time (not so long ago) where hotels could setup pages on their site discussing each and every nearby attraction, targeting the "hotel near xyz attraction" type search query. Do you still feel this tactic can benefit hotels, or is Google a bit too clever for that nowadays - in the sense they are better at fulfilling a users search intent by returning an "independent" site like an OTA vs a specific hotel.
Creating content around locations is still of huge importance for building organic visibility, but not in the traditional blue links kind of way.
For many hotels, the end goal is to primarily be visible in the local map pack. If we're following the 3 main pillars for local search as Distance, Prominence, and Relevance, then building local content is going to be the main driver of relevance signals for the map pack.
Not only that, this enables hotels to surface meaningful content to their customers. Some examples I can think of is "how to prepare for Game day" when targeting a stadium or "hidden gems near the Smithsonian Museum" provided by an expert concierge.
#12 - Finally.... when you're not helping hotels win the direct bookings battle, or discovering Google's next search algorithm updates, what kind of things do you enjoy doing outside work?
My current obsession is making dough and using it for all different kinds of recipes like flatbread pizzas, pita chips for hummus, and naan.
When I'm not comatose from food all the time, I enjoy playing tennis, being an amateur MacGyver, and poorly playing the same 4 songs on ukulele.
---------
Thanks once again to Masaki Okazawa of Merkle for taking the time out to answer my questions about search marketing for hotels. Got any follow-up questions you'd like to put to either myself or Masaki? Or did you want to give your own feedback on some of the items we've covered above? Leave a comment below, or you can also direct them on Twitter to Masaki or myself.
Want to take a look at other interviews with leading professionals working in the search industry for hotels and travel? Just take a look at the Search Marketing for Hotels section.