Greg Moskovitch is Growth Marketing Manager of Rome2Rio, an incredibly useful travel resource which allows you to plan the easiest way to get from A to B.
With a daily reach of over 500,000 sessions, Greg definitely has his work cut out to help grow their audience and build their brand.  
I thought Greg would make a great candidate considering his role within the travel sector (don't forget Rome2Rio also allows users to find hotels during their travels!), and obviously considering his wide field of experience gained as a digital marketing consultant based in Melbourne.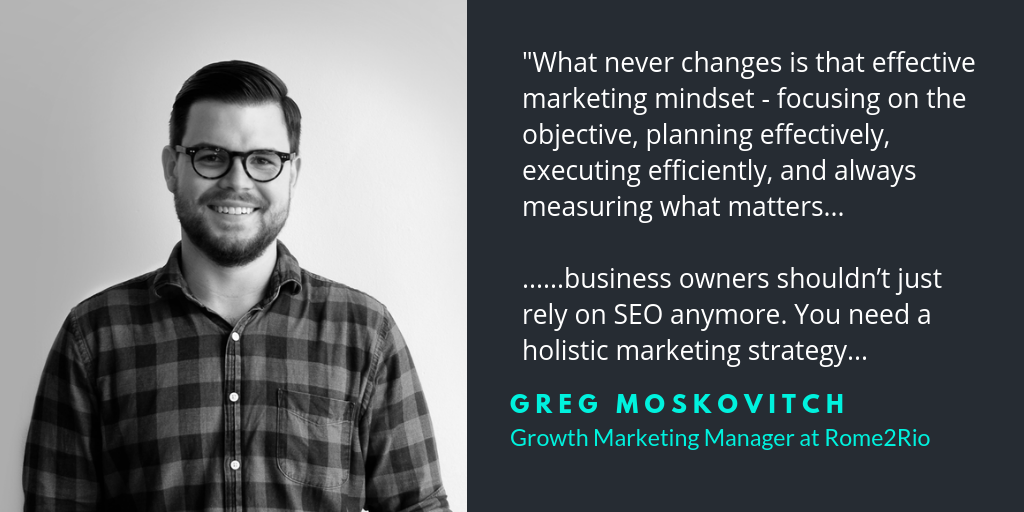 #1 – Rome2Rio is obviously a huge brand, especially here in Europe (I've used it many times, especially when travelling Spain and Greece a few years back). What led you to working with them – and what was it that attracted you to the role?
I'd spent some time in the agency world. I was something of a hybrid, working across account management and strategy and implementation. I was looking after a diverse range of clients and working across multiple channels and I felt like it was time for me to consolidate my focus and see what I could do with a single brand.
What attracted me to Rome2rio was the product itself, the company story, the team culture, and most of all, the challenge. We're a relatively small team with big ambitions and an entire globe to cover.
#2 – #2- As a product you make it extremely easy for people to plan their travel journey, and to purchase the required travel tickets along the way. Aside from generating revenue as an affiliate of the products you recommend (whether it's train tickets, a hotel, car rental), are there any other ways Rome2Rio is able to monetise its platform?
We've actually begun selling tickets directly through the Rome2rio platform. It's a fairly new addition to the product, but something we see as a significant growth area for the future. It's also immensely competitive, so I and the other Rome2rio team members certainly have our work cut out for us.
#3 – As an outsider, you'd imagine the likes of Google to be one of the biggest threats to your brand (as is the case now with Online Travel Agents (OTA's) too. Many people use the likes of Google to provide their travel information. What kind of things differentiate Rome2Rio's travel service to the likes of Google, if any?
When Rome2rio first launched, the differences were clear. Rome2rio offered multi-modal travel options, as well as easy access to schedules and ticket booking. Since then, Google has increased its coverage of multi-modal travel options and has been turning into something of an OTA unto itself. 
But we've had the same mission statement since the beginning, which is to be a trusted travelling companion for our users. That's ultimately what sets us apart. We aim to put all of the information you need to plan your travels in the one spot, whether we're helping you find the only bus travelling from Bogotá to Chía with our unparalleled coverage, booking a hotel to stay in when you get there, or suggesting alternative modes of transport that could be faster, cheaper, or improve your travel experience immeasurably. We're a travel company through and through.
Our view of Google is as a partner and as far as marketing spend goes, there's still no better ROI than organic traffic.
#4- As Growth Marketing Manager, I can imagine you have to wear several hats during your day to day work. Do you think it's important for digital marketers nowadays to have this ability to switch seamlessly between channels (so having a good knowledge of SEO, PPC, Social, Email, etc) as a general "T-Shaped Marketer", or do you feel it's just as pertinent to specialise within the one channel?
I think it's important to have a solid foundation in all of the most commonly leveraged channels and even more importantly, an understanding of how they can all work together. It's important to know the strengths and weaknesses of all of the channels at your disposal and how they can each contribute to your funnel(s).
Having a core area of expertise is very helpful and most marketers I speak to usually have one area they really own, but I think what's ultimately the most important and effective trait in a marketer is a mindset that's both holistic and creative.
It's important to see the bigger picture, like how different channels factor into your funnel, but also to consider what's not yet on the canvas, or even on your palette (excuse the corny metaphor). Are there channels or touchpoints you haven't even considered yet? Can you use existing channels in a unique or innovative way?
#5 – And following on from the above; are you able to estimate what kind of percentage of your time is based upon which particular digital channels? In other words what channels take up the most of your time? If I had to guess something like Social wouldn't be a huge driver for your brand, whereas SEO or PPC might have more value?
That's certainly true. Something else that separates us from other players in the space is we didn't rely on social or paid media to drive growth. For the first few years of the company, Rome2rio's growth was driven entirely by SEO.
It's difficult to partition my time neatly, but certainly the bulk of it is taken up by search. I would say maybe 70+%, but it varies. A lot of my time lately has been taken up especially by the paid search side of things and by our new affiliate program, which is something we're really excited to see grow in 2019. I also advise on Rome2rio's editorial content, working alongside our awesome travel editor Ellie Cobb, and we have something big we're working on for Q1, so that's taking up more of my schedule.
#7 – Looking at the internal structure of the site, I can see that you've integrated some of your most-popular travel journeys very nicely, in terms of the technical SEO implementation.
For example one of the popular travel routes is Amsterdam to Paris, and so you have the URL as https://www.rome2rio.com/s/Amsterdam/Paris. This avoids generating custom, indexable URL's when a user inputs a search query (a custom search actually shows a "noindex" page), plus you're able to integrate these popular journeys from your homepage and other key places on the site.
Are these popular journeys monitored for search volume/visits manually, or is there some machine-learning or other algorithms at work to keep these popular routes visible?
We have different sets of pages that all serve a different purpose, a different utility for those planning their next trip with us. We're obviously careful to prevent SEO issues like index bloat and inefficient use of crawl budget, as well as 'cannibalisation'. As you can imagine, getting travellers from A-to-B anywhere in the world creates quite a few URLs. We also service so many different long-tail queries that Google can sometimes struggle to serve the best result we have available.
The popular journeys you see on the homepage are manually populated and based on what we've determined are very popular, 'evergreen' journeys that are relevant to users year-round. Having those journeys update based on user activity could be interesting, but may not be as useful, especially since traffic to a particular page could spike for any number of reasons. It's not out of the question, though.
#8 – You've worked with an enviable range of brands; from Vans to Red Bull, Converse and now Rome2Rio. When standing back and reviewing these positions, do you feel there's a lot of knowledge which is interchangeable – despite some being extremely different industries (particularly Rome2Rio). Which would you say has been the most challenging role for you?
Rome2rio has been a real steep learning curve for me and a fantastic challenge that I've only begun to sink my teeth into. I would say it's certainly been the most challenging role for me as it's forced me to sharpen my skills in every possible area, from pure technical knowledge through to soft skills.
I'd like to point out that I didn't hold positions within the aforementioned brands, but worked on campaigns during my tenure at other companies. Is the knowledge interchangeable? I would say working with a music industry client has different considerations to, say, a SaaS provider or Rome2rio, but what never changes is that effective marketing mindset–focusing on the objective, planning effectively, executing efficiently, and always measuring what matters. That's universal. I would also say that regardless of what industry you're in, creativity is always rewarded.
#9 – As we head into Q4 of 2019 are there any particular elements of search marketing within the travel industry that you're really excited about – whether it's the rise of voice search, faster mobile services with more ecommerce adoption?
This may sound a bit cynical, but honestly I think what makes me most excited is the fact that more and more people–SEOs and business owners alike–are waking up to the fact that you can't, or shouldn't, just rely on SEO anymore. You need a holistic marketing strategy that factors in multiple channels and drives users down the funnel, away from third-party platforms you can't control.
Now, that said, more and more people are using the internet to plan and book their holidays, which naturally is really exciting to me. Mobile travel bookings continue to increase significantly year on year, so the total size of the online travel market is increasing, not decreasing, and with it we'll see new ways travel information is searched for and delivered, as well as new user needs and preferences. There really is more opportunity than ever, but the means of access to the market is changing, which brings with it certain challenges.
#10 – You've regularly presented at General Assembly on a range of topics and courses, from Google Analytics to Advanced SEO. How did you get started here, and what attracted you to start teaching?
I was working in the agency space with a French expat named Simon Mathonnet. Simon is a brilliant marketer and was a very important mentor of mine. He'd been teaching at General Assembly for a couple of years and asked me to fill in for an Intro to SEO workshop he was scheduled to teach. The rest really is history. I've been with General Assembly for almost a year now and I absolutely love it.
There's not much that would turn me off it–I get to talk about something I'm interested in and passionate about to a room of people who want to learn and who are each looking to get something different out of their experience. I also feel very lucky and privileged to get to work with General Assembly. I think they're a great organisation and are playing an increasingly important role in the new digital economy.
My favourite part really is getting to meet a lot of cool, interesting people working on unique and exciting projects. A couple of months ago I met a medical student who started a blog where he interviews veteran doctors who've had unique careers in order to inspire other med students to be creative and think outside the hospital bureaucracy track–I just love stuff like that.
#11 – How wary should other travel companies be of the movements that Google makes, in terms of the new features they start to roll out? We've seen that their Flights product and now the Book with Google program have spread panic through a number of companies, so do you feel companies need to be built up with an agile framework for cases like this? Or is the interest Google shows to particular industries just a validation that you're in a good market?

I think everyone should be aware and informed, regardless of your industry. Whether you're an OTA, an ecommerce store, or an informational blog, it's imperative you develop a clear pathway to making organic traffic from Google part of your funnel and not your sole source of traffic.
I think by now everyone's seen Rand Fishkin's talk at BrightonSEO, which was great and an important siren call to the industry, but that's not even the half of it. It's not just extra SERP features we're dealing with here, but also app indexing and deep linking, things like Google Now on Tap. These are all going to impact organic click-through rate in your industry, if they aren't already.
#12 – I can't interview you here about travel marketing without asking you about travel; you're based in Melbourne now, so what's been your most memorable travelling experience? Any places on your travel bucket list for 2019 and beyond?
My favourite place in the world is Japan. I think it's just the most incredible place to travel in. A single train ride can take you to a completely different set of experiences, like hopping between worlds. I've always said it's the most photogenic country in the world–it's virtually impossible to take a bad photo of Tokyo or Kyoto. I just love it.
I actually have a honeymoon to plan for 2019, so my fiancee Paris and I are currently considering where we'd like to go. I've wanted to do a tour of North America's national parks for a long time, so I'm pushing for something like that.