Google Ads for Non Profits is a grant program that's been running for nearly 20 years now, helping nonprofits to share their causes with the world.
As a qualifying nonprofit you can receive up to $10,000 (roughly £7,600 at time of writing) per month in budget to be used on the Google Ads program, although there are quite a few restrictions and requirements to be met.
The Ads for nonprofits program is a slightly different proposition to your typical Google Ads account in by you're limited to only utilising Google Search ads. The Display, Video and Retargeting campaign features are all sadly unavailable if you're a nonprofit – unless you are funding these yourselves of course.
In the past few years it seems that Google has tightened the grant restrictions further, and have become a bit stricter as to what you can and can't do with the funding.
I've worked with a few nonprofits over the years in my role as a PPC consultant for green and eco brands, firstly helping to make them aware of the existence of the funding grant (you'd be surprised how many charities don't know about it!), and secondly helping to get their accounts and campaigns live before managing them on a monthly basis. I've also sadly seen what happens when someone fails to maintain the account on a regular basis – after a few warning emails, Google will remove you from the nonprofit program completely! 😨
As you can imagine, having this ad grant taken away from a charity can have a huge impact – and if you're able to spend anything near the $10,000 monthly budget that would be a massive drop in search visibility and traffic to your site.
And so with that in mind it's vital that if you are accepted onto the program, you take good care to ensure that you're abiding by Google's ad grant requirements.
Requirements for the Google Ads for Nonprofits program in 2022
First of all you have to see if you're eligible for the grant before you apply. I won't go into details on that process here, but if you are holding a valid charity status in your country you should be eligible to apply. You can see the full eligibility requirements here.
Assuming you are already on the nonprofits grant program, here are some of the main requirements that you have to follow in order to retain that status:
#1 – Click-through rate (CTR) requirement of 5% each month at the account level (unless you are using Smart Campaigns)
This is a fairly big one, and is probably the one you've got to keep your eyes on in order to keep Google happy. You need to ensure you're getting a 5% CTR as a minimum each month at the account level (not for individual keywords), or you risk being booted off the program. That is unless you are using the Smart Campaigns type, as those ones don't need to worry about the CTR requirement.

Whilst Google will let you get away with the odd month where you fall behind this figure, it's best to avoid it to keep your account and grant in good standing.
How do you ensure a good CTR from your ads? There are many ways to go about these. The main approach I take is to ensure I'm using a good account structure and campaign labelling.
Don't have messy adgroups that target multiple topics with broad match keywords! Try and get as granular as you possibly can. Setup one overriding campaign with a main focus.
For example that campaign for a charity involved in climate change or CO2 emissions might be "Tree planting" and then you have adgroups that contain sub-topics of that category. In this case you might have a "tree planting charity" adgroup where you contain phrase and exact match keywords relating to tree planting charities. Another adgroup here might be relating to "volunteer tree planting" where the keywords relate to volunteering to plant trees. A second campaign might then be setup for a different topic that the charity deals with, perhaps in this case it might be "CO2 audits" where you have an adgroup for terms like "co2 audit for my business". You might have a separate campaign for that facet of the charity if you wanted to have specific Sitelink Extensions and so on. There are a few ways to go about it but the main point is to keep a good, intuitive structure to the Google Ads account.
When you have a really granular approach to the setup of the PPC account you can then expect great results as well as being able to really control the CTR's. You can clearly see which adgroup is containing any search terms that are getting high impressions but low clicks – allowing you to pause/remove those offending keywords as necessary, thus keeping the overall CTR down.
Personally I use this approach on all my PPC accounts because it gives better overall results. Because of the level of detail involved in the campaigns and adgroups, I find the quality scores are great and conversion rates are usually higher than normal, leading to a better return on ad spend (ROAS) for the client. Because my adgroups are very specific to certain subtopics, I can then write ad texts which are very specific and exactly match the theme of the adgroup – resulting in a good CTR and a more engaged user. It's a win-win situation for everyone 🙌
The main risk with the Ad Grant program IMO is that a charity will setup adgroups that contain broad match keywords like "charity" and "donate", targeting a broad geographic region like the entire UK, resulting in terrible CTR's and equally terrible performance. Sadly I think this happens when a PPC specialist isn't involved with the account from the word go. I imagine lots of charities and NGO's have been kicked off the program without ever giving it a proper chance – which is quite a sad thought.
There are lots of other ways to ensure you hit the 5% CTR but the above account structure is one of the key ones, IMO.
#2 – Conversion tracking needs to be configured and working – and track a minimum of 1 conversion per month
This was another fairly new requirement from Google – any accounts created since January 2018 and any accounts using conversion-based Smart Bidding must implement valid conversion tracking.
I think this was brought in to show the value that the Google Ads for nonprofits scheme can have for charities, enabling them to see exactly how beneficial the scheme can be to a charity, as well as ensuring the charities using the program are fully invested in getting the most out of it.
Conversion tracking for a charity might involve tracking when someone makes a donation on a website, makes a transaction (perhaps you sell items through an online store), or completing a contact form submission (event tracking).
This is always a good idea because ultimitely you do want to know if the people you're bringing to your website are converting or not. Otherwise really what's the point in having a website and investing time and effort in getting any visitors?
There are a few ways to setup conversion tracking, it might involve adding a custom piece of code to your website, making a tweak to your Google Analytics tracking code, or setting this up within the Google Ads conversions page. Be wary that as many charities and NGO's will be migrating over to GA4 or another tracking tool over the next few months, you'll want to mimic your existing setup.
The requirements here from Google are to report a minimum of 1 conversion per month, whilst ensuring the total number of clicks don't match the conversions – otherwise something is likely not tracking correctly 🙃
#3 – Smart-bidding needs to be enabled (or Smart campaigns in use)
Any accounts created on or after April 22, 2019 need to use Smart-bidding across all campaigns, or be using Smart campaigns. If you don't have this enabled as your bidding method Google will automatically switch you onto their smart-bidding option. The options to choose from are:

– Maximize conversions,
– Maximize conversion values,
– Target CPA,
– Target ROAS bidding.
I've found that if I didn't select one of these bidding methods Google will automatically port you to one, I think in my case Maximize conversions. Whilst many PPC's have been reluctant to let the algorithm detect their bidding strategies, many have seen positive improvements by allowing this. Google states it is to drive performance of anyone making use of the Google Ad Grants program.
#4 – No single word keywords (or SKAGGING)
Single keywords within adgroups used to be a popular PPC campaign tactic as it would yield some great results if setup correctly. This "Skagging" PPC method seems to be frowned upon here by Google.
It's unlikely that for a charity or NGO it would have yielded such great results – previously I had used it to good effect when targeting a company by it's name, in effect bidding on it's brand name using exact match keywords.
💡 It's worth noting that you CAN still use this if you are bidding on your charity name, it just can't be used in this instance for non-brand keywords. 💡
I think that really if you are trying to hit that 5% minimum CTR as you need to be doing, single keyword usage would have been very tricky to do successfully here anyway.
#5 – No generic keywords or low quality score keywords
This is a bit of a vague one but I think it also falls under the minimum 5% CTR requirements. A generic keyword is described by Google as being one such as "free videos", "e-books" or "today's news". Again, I don't see how you could be making use of those keywords without having a terrible CTR and really low conversion rates.
Low quality score keywords might be one you have to manually check for now and then, but if you're doing things the right way it shouldn't really affect you. Each keyword has a quality score rating, visible only if you modify your existing columns in the Ads account interface as shown below.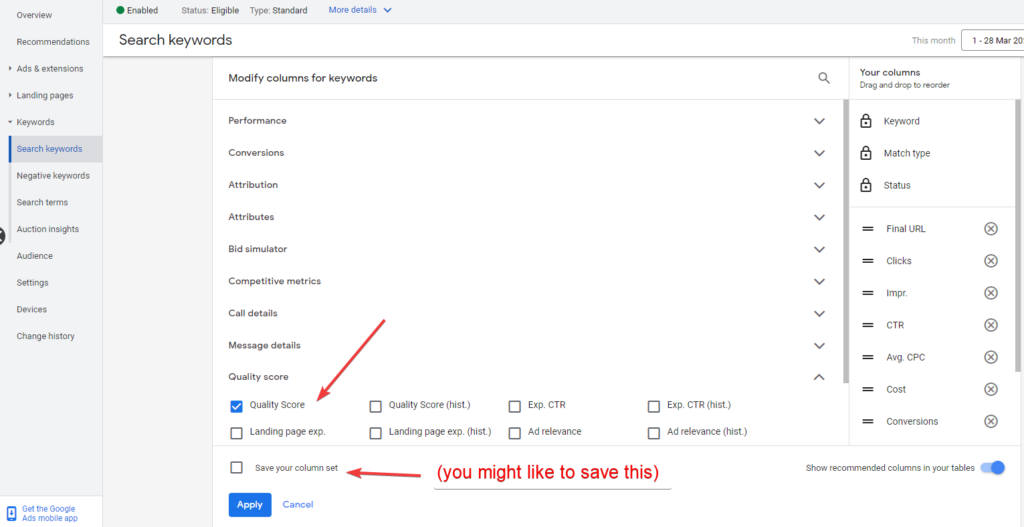 The higher the rating the better the keywords are according to the landing pages used in the ads with a score given out of 10.
You can check quality score by keyword manually – or perhaps better you can setup an automated rule that will pause any under performing keywords automatically, saving you buckets of time.
#6 – Account structure requirements – 2 ad groups per campaign / 2 sitelink extensions
Again I think this one should be covered quite naturally if you are setting up the Ads Grant correctly from the start. It should be very easy (necessary in fact!) to have at least 2 ad groups per campaign, and to have 2 sitelink extensions in use per campaign.
I think if you know Google Ads account management and how to get the best results for your clients you would have been keeping on top of the above requirement already. I'm just including it here as it's a written requirement by Google to keep them happy. 🤓
#7 – Administrator must complete a program survey
This is a funny one and is easy to fall through the cracks, as has done with a charity I've worked with before. Google will send out a program survey every year, sent to the login email address on each Ad Grant. The survey needs to be completed in order to retain your ad grant status. I think this is Google trying to collect as much data as they can to determine how the Ad Grant is performing.
You can try and find the link to the survey, if you don't see the email, at the following link.
Hopefully if you're able to follow the above guidance you'll have no trouble ensuring you remain on the Google Ad Grants program. If you have other suggestions (did I miss anything?) or wanted to ask for my help to manage your own Ads Grant, you know where to find me 👋
I run a variety of PPC services aimed at green, eco or "for good" businesses, so if you like the sound of those don't hesitate to reach out.